Dr. Bernard Chen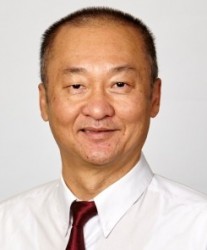 Dr. Bernard Chen
Senior Lecturer
Department of Mechanical and Aerospace Engineering
Room 121, 17 College Walk (Building 31), Clayton Campus.
Qualifications
BE in Engineering 1st Class Hon, Monash University.
Ph.D, Monash University.
MBA, Graduate School of Business, Rmit Univeresity.
Expertise
Bio-Mechanical and Bio-Medical Engineering.

Computational Mechanics and Rail Materials.

Finite Element Modelling, Thermo-Mechanical Analysis of Forming Processes.
Appointments
Senior Lecturer – Mechanical and Aerospace Engineering, Monash University
Associate Professor – Hon Principal Fellow – Otolaryngology, Department of Surgery, The University of Melbourne
Associate Editor – International Journal of Agile Systems and Management
Research
• Finite Element Analysis (FEA) and Solid Mechanics
Applied Mechanics in multi-disciplinary research – crack and failure analysis, thermo-mechanical deformation, microstructural modelling, geo-materials, light alloys, composite materials and optimisation
• Railways technology and research
Rail materials, track and wagon dynamics and structural health, real-time sensing, Laser Speckle Imaging
• Computational fracture mechanics:
Fatigue of high strength aluminium alloys, damage of materials and life assessment
• Biomechanics and Medical Engineering:
Cochlea implant, medical devices, orthopaedic implants, impact simulation and injury assessment, minimally invasive surgical tools
• Design: CAD, high speed forming, light weight structures, agile manufacturing systems
Keywords
Bio-Mechanical and Bio-Medical Engineering
Computational Mechanics and Rail Materials
Finite Element Modelling
Research Projects
Current projects
System for real-time monitoring and sensing railway conditions by laser light
Rail Manufacturing CRC PhD Scholarship.
NIS Low GI Powder Product Development
Process Improvements at Dollar Sweets
Past projects
Advanced Composites Research
CRC Railway Engineering and Technologies
CRC Advanced Composite Structures
CRC for Integrated Engineering Asset Management
Teaching Commitments
MEC5881 - Performance Systems Engineering
MEC3455 - Solid Mechanics
Last modified: 11/05/2020