Dr. Chaoxun Hang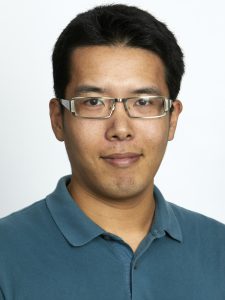 Dr. Chaoxun Hang
Research Fellow
Department of Civil Engineering
Room 111, 23 College Walk (B60), Clayton Campus
Dr. Chaoxun Hang is currently a research fellow working with Prof. Marc Parlange in the Department of Civil Engineering at Monash University. He received his Ph.D. degree in Mechanical Engineering from University of Utah at 2017 and the B.S. degree in Atmospheric Physics from University of Science and Technology of China at 2011.
Qualifications
Ph. D., University of Utah, 2017
B. S., University of Science and Technology of China, 2011
Research Interests
Environmental fluid dynamics, atmospheric turbulence, computational fluid dynamics, soil moisture dynamics, land-atmosphere interactions, fog over complex terrain
Research Projects
Current projects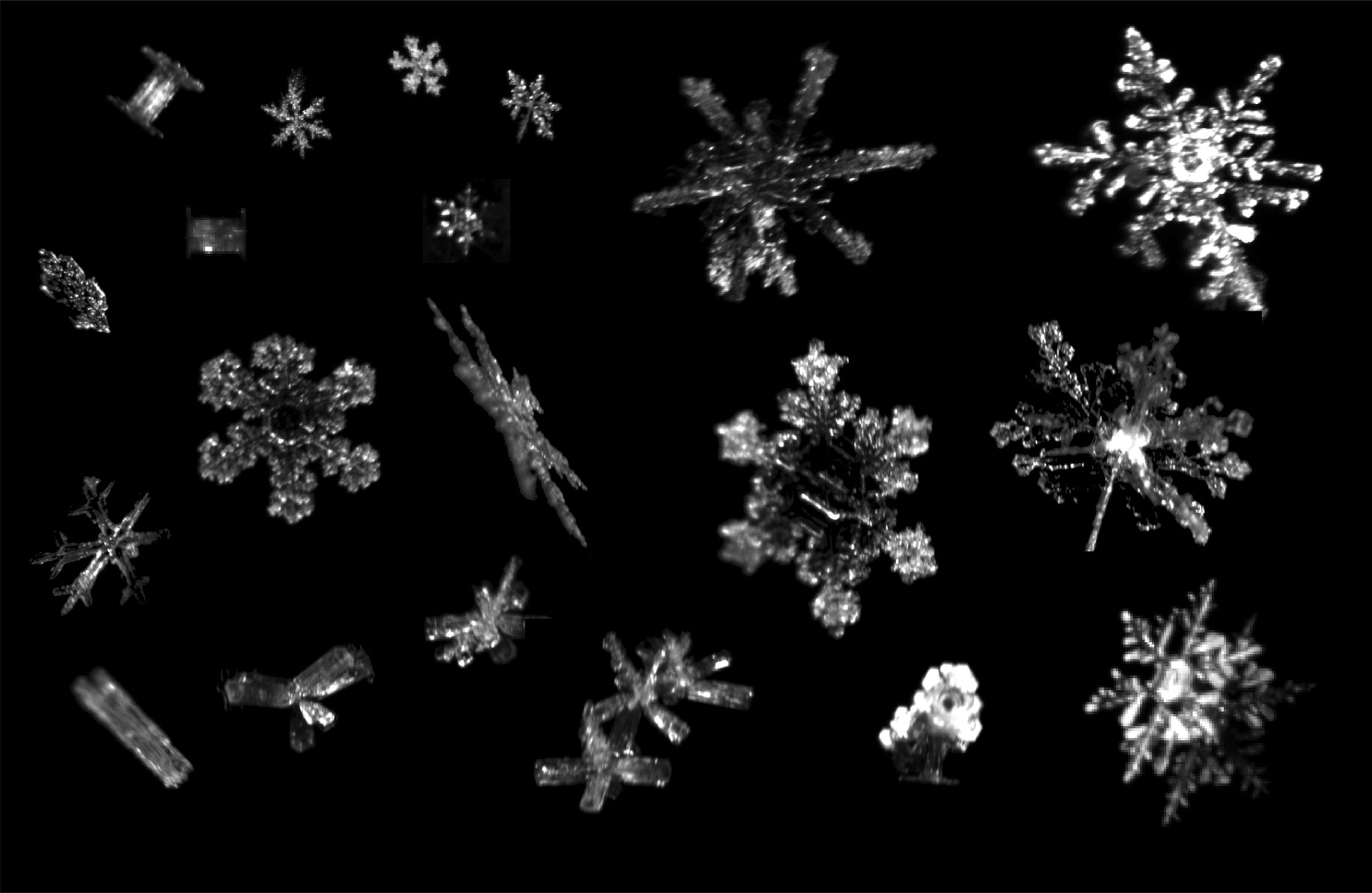 To numerically study the interactions between particles and the MASC instrument, we use OpenFOAM to modify and combine solvers that are desirable to this study. OpenFOAM (Open Field Operation and Manipulation,
https://openfoam.org/) is a free and open-source computational fluid dynamics toolbox based on C++ libraries and codes to solve complex flow dynamics problems [2], which has been widely used in science and engineering from commercial and academic communities [1, 4]. In this work, a built-in mesh generation utility snappyHexMesh is used to generate 3-dimensional meshes from complex geometries in Stereolithography (STL) or Wavefront Object (OBJ) format, both of which can be created by any computer-aided design (CAD) computer programs, such as SolidWorks (www.solidworks.com) and AutoCAD (www.autodesk.com/products/autodesk-autocad/overview). In addition, spherical particles are injected into the flow at given locations with customised particle features (e.g., diameter, density). The flow is solved by SIMPLE algorithm, which is widely applied to solve the Navier-Stokes equations numerically for incompressible and turbulent flows [3]. A post-processing procedure is performed mainly by ParaView (https://www.paraview.org/), which is an open-source data analysis and visualisation application.
A comparison of potential temperature variance budget over different surfaces
The diurnal cycle of turbulent fluctuations behavior over different surfaces in the atmospheric boundary layer, modeled the temperature variance budgets with new scaling terms
Past projects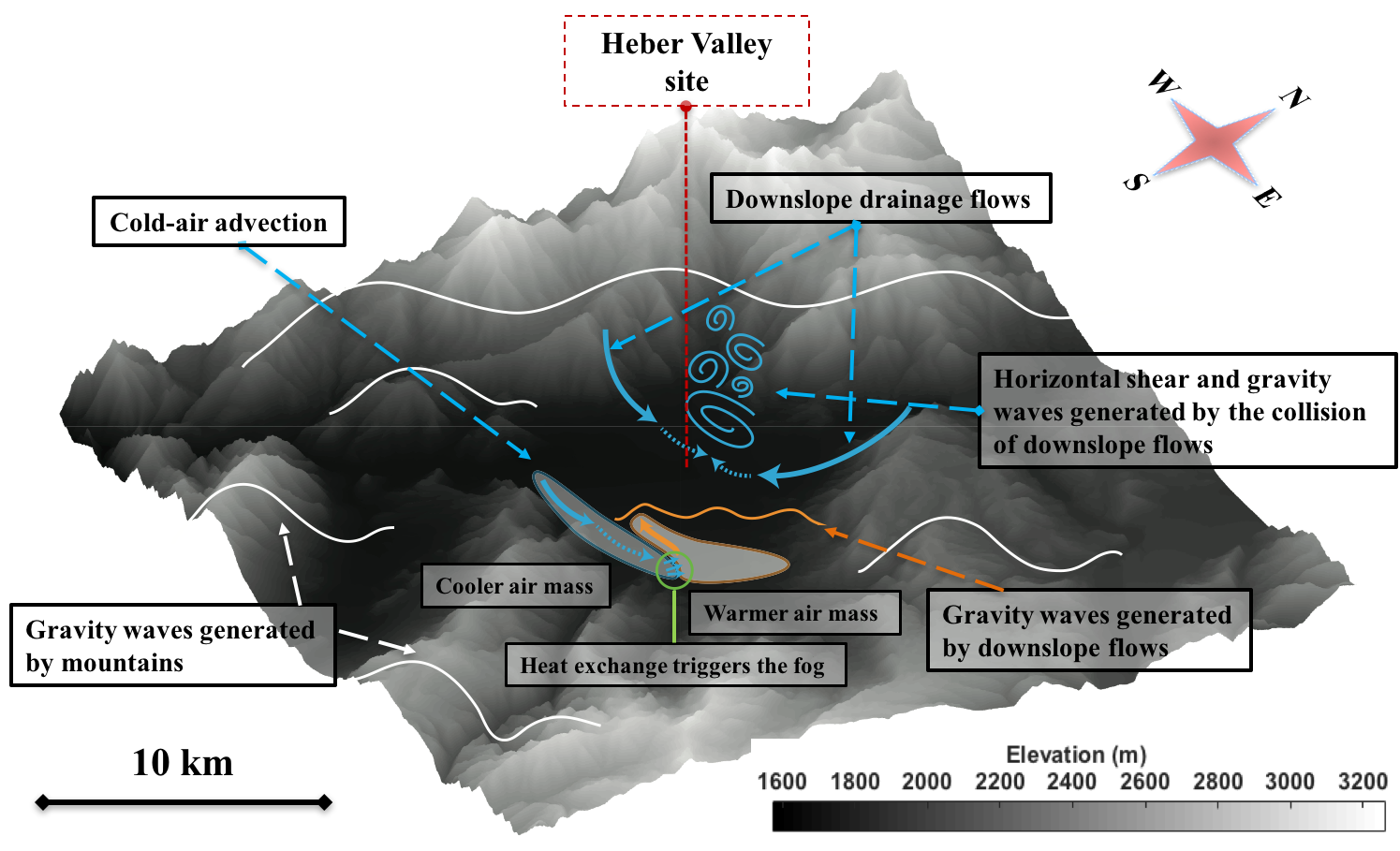 We present a valley fog case study in which radiation fog is modulated by topographic effects using data obtained from a field campaign conducted in Heber Valley, Utah from January 7–February 1, 2015, as part of the Mountain Terrain Atmospheric Modeling and Observations (MATERHORN) program.  Overall, this case study provides a concrete example of how fog evolution is modulated by very weak thermal circulations in mountainous terrain and illustrates the need for high density vertical and horizontal measurements to ensure that the highly spatially varying physics in complex terrain are sufficient for hypothesis testing.
1. Hang, C., Nadeau, D., Gultepe, I., Hoch, S., Roman-Cascon, C., Pryor, K., Fernando, H.J.S., Creegan, E., Leo, L., Silver, Z., Pardyjak, E. R., (2016), A Case Study of the  Mechanisms Modulating the Evolution of Valley Fog. Pure and Applied Geophysics, 173, Issue 9, pp 3011– 3030
2. Gultepe, I., Fernando, H.J.S., Pardyjak, E. R., Hoch, S. W., Silver, Z., Creegan, E., Leo, L. S., Pu, Z., Wekker, S. De, Hang, C.(2016), An Overview of MATERHORN Mountain Ice Fog Project: Observations and Predictibility. Pure and Applied Geophysics, 173, Issue 9, pp 2983 – 3010
3. Hang, C., Nadeau, F. D., Jenson, D. D., Hoch, W. S., Pardyjak, R. E. (2015), Playa Soil Moisture and Evaporation Dynamics During the MATERHORN Field Program. Boundary Layer Meteorology, 159, Issue 3, pp 521 – 538
4. Fernando, H. J S, Pardyjak, E. R., Di Sabatino, S., Chow, F. K., De Wekker, S. F J, Hoch, S. W.,Hacker, J., Pace, J. C., Pratt, T., Pu, Z., Steenburgh, W. J., Whiteman, C. D., Wang, Y., Zajic, D.,Balsley, B., Dimitrova, R., Emmitt, G. D., Higgins, C. W., Hunt, J. C R, Knievel, J. C., Lawrence,D., Liu, Y., Nadeau, D. F., Kit, E., Blomquist, B. W., Conry, P., Coppersmith, R. S., Creegan, 
E., Felton, M., Grachev, A., Nunawardena, N., 
Hang, C. 
et al., (2015), The MATERHORN: 
Unraveling the Intricacies of Mountain Weather. 
Bulletin of the American Meteorological Society
, 
96, 1945 – 1968
Last modified: 22/08/2019