Dr. Chris Haberfield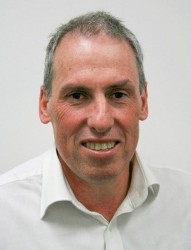 Dr. Chris Haberfield
Adjunct Research Associate, Department of Civil Engineering
Department of Civil Engineering
Dr Chris Haberfield has been Principal Geotechnical Engineer with Golder Associates Pty Ltd. Internationally recognised for work on foundation structure interaction and soft, weak and weathered rock and in particular the analysis, design, laboratory and field testing, construction techniques and response of engineering works (e.g. foundations) in these materials. Have extensive experience in piled foundation design and analysis, numerical (including advanced finite element) and analytical modelling, laboratory and field testing of geo-materials, stress analysis, ground structure interaction problems and slope stability analyses.
With high level engineering skills and technical knowledge and a practical approach which have been developed through 30 years of research and teaching and high level consulting to industry as an academic followed by 15 years as a consultant solving high level technical issues for a wide variety of projects. Have been responsible for value engineering, engineering design, analysis, construction and testing advice for numerous low to high rise commercial and residential towers, deep basements, road/rail separations, bridges, embankments, tunnels, mines and other developments and infrastructure projects in a wide range of ground conditions from soft soil to hard rock. Some examples include many high rise and/or deep basement developments in Melbourne, SE Queensland and the Middle East (including the 1.2 km high Nakheel tower in Dubai and numerous 20 m to 30 m deep basements in Melbourne and Brisbane), tender design for the Gateway Bridge duplication, Middleborough road – rail grade separation and the tender and final design for the New Royal Adelaide Hospital.
Have published over 140 refereed papers many of them dealing with ground structure interaction problems, pile performance and analysis. Awarded the 2007 EH Davis Memorial Lecture for work in foundations in weak rock.
Qualifications
Doctor of Philosophy,(Ph.D)
Bachelor Of Engineering, Civil Engineering, First Class Honours
Bachelor of Science,(BS.c)
Expertise
Shallow and deep foundations

engineering performance of weak rock

geothermal energy piles

ground structure interaction

impact of pile construction techniques on performance

pressure meter testing

landslides

ground improvement
Last modified: 02/07/2018