Professor Cordelia Selomulya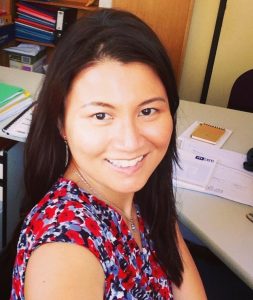 Professor Cordelia Selomulya
Adjunct Professor
Department of Chemical and Biological Engineering
Room 209, 36, Clayton Campus
Prior to joining Monash University, Professor Selomulya was a Royal Academy of Engineering Anglo-Australia Fellow at the University of Leeds, and an Australian Postdoctoral Fellow at the ARC Centre of Excellence for Functional Nanomaterials at UNSW. She has a Bachelor of Chemical Engineering (1st class with the University Medal) and a PhD in Chemical Engineering from the University of New South Wales. She was recently awarded an ARC Future Fellowship (2014 – 2018) to conduct research on the manufacturing of high value particles for functional foods and pharmaceutical industries. She is an adjunct Professor of Chemical Engineering at Soochow University in China (2013 – current), and was an Australia-China Young Researcher Fellow (2013).
Prof Selomulya is leading the Biotechnology and Food Engineering group with an internationally recognised reputation in drying technology research, and the only facility in Australia for functional particle assembly via microfluidic spray drying. The unique spray dryer can be used to synthesise other types of particles, including thermal sensitive and bioactive particles, microparticles for controlled release and microencapsulation, magnetic and fluorescent composites, and mesoporous microspheres with hierarchal structures and properties superior to those observed on nanomaterials (Prov. Patent AU2013904021). The method is scalable and is potentially a cost effective, energy and material-efficient route to produce high quality powders with better functionality and ease of handling. This technology is an integral part of her ongoing collaborations with Dairy Innovation Australia Ltd, French National Institute for Agricultural Research (INRA), Agrocampus Ouest (France), Dairy Research Institute (US), South Dakota State University, several Chinese universities (Soochow, Xiamen, Fudan, Nanchang) and companies (Kingdomway Group, Guangzhou Ling Nan Intel Enterprise Group Co., Ltd, 3M, P&G, etc).
Research Experience and Employment History:
2017-present Director, Graduate Research Industry Partnership (GRIP) for food and dairy industry, Monash University, Australia.
2016-present Director, Australia- China Joint Research Centre in future dairy manufacturing, Monash University, Australia.
2016-present Professor, Australian Pulp And Paper Research Institute (APPI), Monash University, Australia.
2015-present ARC Future Fellow, Department of Chemical Engineering, Monash University, Australia
2013-present Adjunct Professor of Chemical Engineering, Soochow University, China
2013-2015 Associate Professor, Monash University, Australia.
2010-2012 Senior lecturer, Monash University, Australia.
2006-2009 Lecturer, Monash University, Australia.
2003-2006  Senior Research fellow, University of New South Wales, Australa.
2002-2003 Anglo-Australia Postdoctoral fellow, University of leeds, United Kingdom
Qualifications
Bachelor of Engineering, UNSW
Doctor of Philosophy (PhD), UNSW
Awards and Honours
2015
Young Food Engineer Award, 12th International Conference on Engineering and Food, Québec City, Canada.
Dean's Award for Excellence in Postgraduate Supervision, Monash University
Special Commendation for the Vice-Chancellor Award for Excellence in Postgraduate Supervision, Monash University
2014
ARC Future Fellowship, Outstanding mid-career researchers in Australia.
2013
Australia-China Young Researchers Exchange Program (YREP) Fellow
Top performing researcher, Monash Research Accelerator program, Monash University
Future Fellowship Incubator
2009
Member, Japan East Asia Network (JENESYS) Programme for Future Business Counterparts from Australia
2006
Most Cited Article Award, Chemical Engineering Science
2005
Best Poster Award, American Filtration Society / American Institute of Chemical Engineering conference, Atlanta
2003
Young Researcher Award, Australian Academy of Technological Sciences and Engineering
1998
The University Medal in Chemical Engineering, UNSW, Australia.
1996-1997
The Shell Prize
Simon Carves Australia Prize
BHP Engineering Prize
Goodman Fielder Ingredients Prize
Western Mining Corporation Limited Prize
Dorr-Oliver Prize
Dow Corning Prize
Abbott Laboratories Pty Limited Prize
Wattyl Australia/ James Hardie Prize
Research Interests
Professor Cordelia's works with the dairy industry have been highlighted in Chemical Processing, Monash Magazine, and internationally (Science Daily, ABC International, etc). She is the director of the Australia-China Joint Research Centre for Future Dairy Manufacturing (2016 – 2019), a joint strategic initiative funded by the Australian and Chinese governments, and industry partners in both countries, including Bega, Devondale Murray Goulburn, Fonterra, Gardiner Foundation, Food Innovation Centre, COFCO, and Mengniu Dairy (http://acjrc.eng.monash.edu/). She is also the director of Graduate Industry Research Partnership (GRIP) for the Food and Dairy industry, to be launched in 2017 (https://www.monash.edu/fdgrip).
She is also leading the Monash Advanced Particle Engineering Laboratory (MAPEL) in interdisciplinary research on the design of nanoparticle vaccines and mesoporous materials (including a recent 2016 article in Nature Chemistry). Other examples include designing a more efficient DNA vaccine delivery system for malaria using magnetic nanoparticles, understanding the role of nanoparticle adjuvants for ovarian cancer vaccines, and developing multi-stage vaccines for malaria. She collaborates with researchers from Materials Engineering in designing magnetic nanocomposites for electromagnetic interference shielding and developing new 1st order magnetic nanomaterials for magnetic heating (Prov. Patent AU2013905012), and with The Trustee for Cell Medicine Australia Unit Trust via an ARC Linkage to develop nanoparticle/hydrogel composites for cartilage repair. She is an ARC Future Fellow (2014 – 2018) and an adjunct professor at Soochow University.
Research Projects
Current projects
Sample analysis for Fonterra
NIS Low GI Powder Product Development
Australia-China Young Researcher Exchange Program
Immune-imprinting nanoparticles (iNPs)
The research promises new classes of immune-imprinting, biodegradable nanoparticles (iNPs) with antiinflammatory properties. The engineering of such particles requires fundamental understanding of their properties that enable specific cellular interactions to regulate immunity with new anti-inflammatory pathways. For pulmonary delivery, spray-dried amino acid microspheres with tailored surfaces as carriers can be generated using the innovative microfluidic drying approach. The potential applications of iNPs are wide-ranging and are not restricted to pulmonary targeting. The commercial implications for Australia's emerging biopharmaceutical industry are substantial.
Scaling-up microfluidic drying as an efficient route to manufacture uniform and functional particles as highvalue products
This project is a proof-of-concept for the adaptation of microfluidic drying technology to produce value-added products in food and pharmaceutical industries, with efficient production and lower environmental footprints. Successful outcomes will assist Australia's manufacturing to target the multi-billion dollars nutraceutical industry in Asia.
Predictive Tools for Effective Spray Drying of Heat Sensitive Dairy Powders
The dairy industry in Australia annually contributes more than $2b in export earnings from dairy products and dairy ingredients, including milk protein concentrates. This project will benefit dairy manufacturers in optimising their commercial operations and minimising loss of commodity due to over/under-drying of protein powders.
The Australia-China Joint Research Centre in Future Dairy Manufacturing
China is the most important market for the pivotal Australian dairy industry. With increasing demand in China for consumer-ready dairy products and the recent free trade agreement, the Australian dairy industry is well-positioned to massively grow our current 7% share of the market. This Joint Research Centre will provide the dairy industry with manufacturing process efficiencies and new high-value products, developing a strong link between Australia and the large distribution network in China.
ARC Research Hub for Computational Particle Technology
This research hub represents a significant research into particle science and technology. It aims to develop and apply advanced theories and mathematical models to design and optimise particulate and multiphase processes that are widely used in the minerals and metallurgical industries. This will be achieved through detailed analysis of the fundamentals governing the fluid flow, heat and mass transfer at different time and length scales, facilitated by various novel research techniques. Research outcomes including theories, computer models and simulation techniques, as well as well-trained young researchers, will generate a significant impact across a range of industries of vital importance to Australia's economic and technological future.
Past projects
Scalable fabrication of novel mesoporous carbonaceous spheres with uniform size as effective adsorbents in water treatment
Mesoporous carbonaceous particles can be used as highly effective adsorbents to remove microcystin toxins from algae blooms affecting freshwater wetlands. Uniform spherical particles are desirable to provide large surface area with accessible pore volumes. Current synthesis methods generate too low product yield for practical use. An innovative spray drying technology will be used to generate uniform sized particles with ordered mesoporous structures, and is a scalable route for complex particle formation with easy product recovery. Successful outcomes will significantly transform the manufacturing of highly efficient adsorbents of novel mesoporous carbonaceous materials for bio-adsorption of microcystin toxins in water treatment.
X-ray Microscopy Facility for Imaging Geo-materials
Recent developments in laboratory based X-ray microscopy have enabled micro-scale investigations of geo-materials under relevant loading conditions. Detailed understanding of the micro-structure, 3-D pore connectivity and chemical composition of materials is required to effectively solve many geotechnical engineering problems. Engineers and scientists from seven leading Australian universities are proposing a new X-ray microscopy facility for imaging geo-materials (XMFIG). The XMFIG will enable the study of internal micro-structures and chemical composition of geo-materials as encountered in, for example, soft ground improvement, cement science, geological sequestration of CO2, and land-fill barrier design.
Switching the light on cartilage repair
This proposal aims to develop a totally new type of matrix, which is hierarchical and tuneable, that will assist stem cell treatments for cartilage repair. Our approach incorporates a hydrogel that can be induced to degrade using near infrared light, allowing 'on-demand' delivery of cytokines and even cells at the site of cartilage defects. The biocompatible matrix can be delivered via a minimally invasive injection, and also contains nanofibres that mimic the physical and chemical characteristics of native cartilage. The technology developed in this proposal will help our Australian consortium to maintain its competitive edge in the global economy.
Brookfield Viscometer LVDV-IP
Lignite for sludge dewatering, drying and waste-water clean-up
Breakthrough Technologies for Energy-Efficient Manufacture of Dairy Powders
In 2008, Australia dairy manufacturers produced over 400,000 MT of milk powders worth over $A1 billion, with spray dried dairy products accounting for over 50% of exports. Milk powder production is the most energy intensive dairy manufacturing process, with the Australian manufacturers under increasing pressure to improve efficiencies and to reduce the cost of bulk powder manufacturing. This project will address how the industry can achieve tremendous gain in energy saving while reducing environmental costs through a combination of lower temperature spray drying and more efficient evaporation processes in generating high quality powders from high solids liquids.
Smart Drying - a collaborative research initiative to engineer a step change in the international competitiveness of the Australian dairy industry - Project Number: 07101B
Development and synthesis of novel nano-structured catalysts for fuel and energy conversion
High performance analytical tools to strengthen clean energy research
Advanced functional materials and technologies for clean energy generation, storage and use are key to many of the grand challenges Australia is facing. The request is to establish unique high performance analytical tools urgently needed to strengthen the ability of scientists in the Sydney region and Australia wide to develop solutions for powering a sustainable Australia. Equipment capable of characterizing a broad range of phenomena at the solid-gas interface is crucial to research in hydrogen production, storage and use, carbon dioxide capture and valorization, and developing functional nanomaterials and catalysts to enable clean energy technologies.
Last modified: 16/12/2019