Mr. Rahul Raj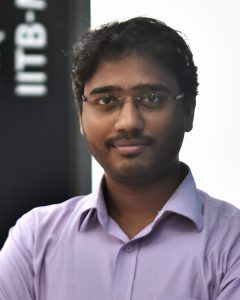 Mr. Rahul Raj
Research Scholar - IITB-Monash Research Academy
Department of Civil Engineering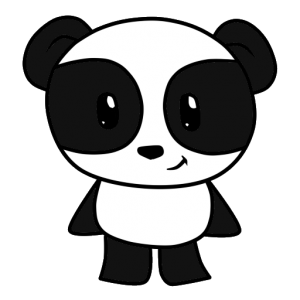 I am a young research scholar in IITB-Monash research academy. I have completed my high school in north India and then joined the University of Pune to become an electronics engineer. With a goal to become a professor, I continued my studies and joined IIT Bombay to pursue M.Tech. During my M.Tech, I got exposure to various social issues related to water, healthcare, education, food etc. I also got a unique opportunity to stay in a remote village of Maharashtra (India) for ten weeks. After completion of this enlightening stay, I decided to use my technical skills to empower rural India, especially farmers. With this motto, I joined IITB-Monash research academy to do PhD in a topic which can directly enable farmers to scientifically decide on how, where and when to use input resources to get optimal yield from the farm. Right now, I am a field researcher who frequently visits farms for data collection and use the data to create a decision support system.
Long term goals: After spending 15-20 years in research, I would like to shift my carrier towards politics, because I think that to become a part of policymakers, I will be able to make a better channel between academia, government, and society, so that
1. academia can focus more on social issues,
2. the government should give proper fund and importance to academia and
3. Whatever academia is creating should finally get delivered to society rather than becoming a stored thesis in the database.
Qualifications
Masters of Technology, IIT Bombay, Mumbai, India, 2016
Bachelors of Engineering, University of Pune, 2013
Expertise
Drone Based Sensing, Hyperspectral Imaging, Machine learning approch for vegetation studies
Recipient of MRS postgraduate residential scholarship 2020
Winner of people's choice award (Research photo competition) in Monash civil Engineering Postgrad conference 2019
Winner of Engineering Faculty level Three Minutes Thesis Talk 2019 – Monash University
Winner of Civil Department's Three Minutes Thesis Talk 2019 – Monash University
Recipient of prestigious 'Monash Vice chancellor's travel grant' in May 2019
Winner of Three Minutes Thesis Talk 2018 (IITB-Monash Research Academy)
Recipient of Sakura Science scholarship at the University of Tokyo, Japan (June 2018)
Online Physics tutor in OLI-NSS IITB (2015-2016)
President (2012-2013), Electronics Engineering Students Association, DYPIET, Pune, India
Research Interests
Farming in developing countries is majorly dependent on the traditional knowledge of farmers, with unscientific agricultural practices commonly implemented, leading to low productivity and degradation of resources. Moreover, mechanization has not been integral to farming, and thus managing a farm is a time consuming and labour intensive process. Consequently, precision agriculture (PA) offers great opportunities for improvement. Using geographic information and communication technology (Geo-ICTs) principles, PA offers the opportunity for a farmer to apply the right amount of treatment at the right time and at the right location on the farm. However, in order to collect timely high-resolution reliable data, unmanned aerial vehicle (UAV) based sensing and on-farm computer-based image/data interpretation are required. These high-resolution images can give detailed information about the soil and crop condition, which can be used for farm management purposes. Leaf area index, normalized difference vegetation index, photochemical reflectance index, crop water stress index and other such vegetation indices can provide important information on crop health. Temporal changes in these indices can give vital information about changes in health and canopy structure of the crop over time, which can be related to various stress present in the crop. Application of machine learning techniques (where the expertise of field researcher is also considered as prior information) has shown considerable improvement in results. This on-farm human-computer interaction has the capability to provide a scientific decision support system for better farm management.
My research is focussed on precision agriculture. I use drones to collect hyperspectral, multispectral and RGB images/data. parallelly I also collect ground truth information and then using physical and machine learning-based crop model I find out those areas which are stressed and might lead to low yield in the farm.
My research story can be found at http://www.iitbmonash.org/news/precision-agriculture-the-future-of-farming/
Research Projects
Current projects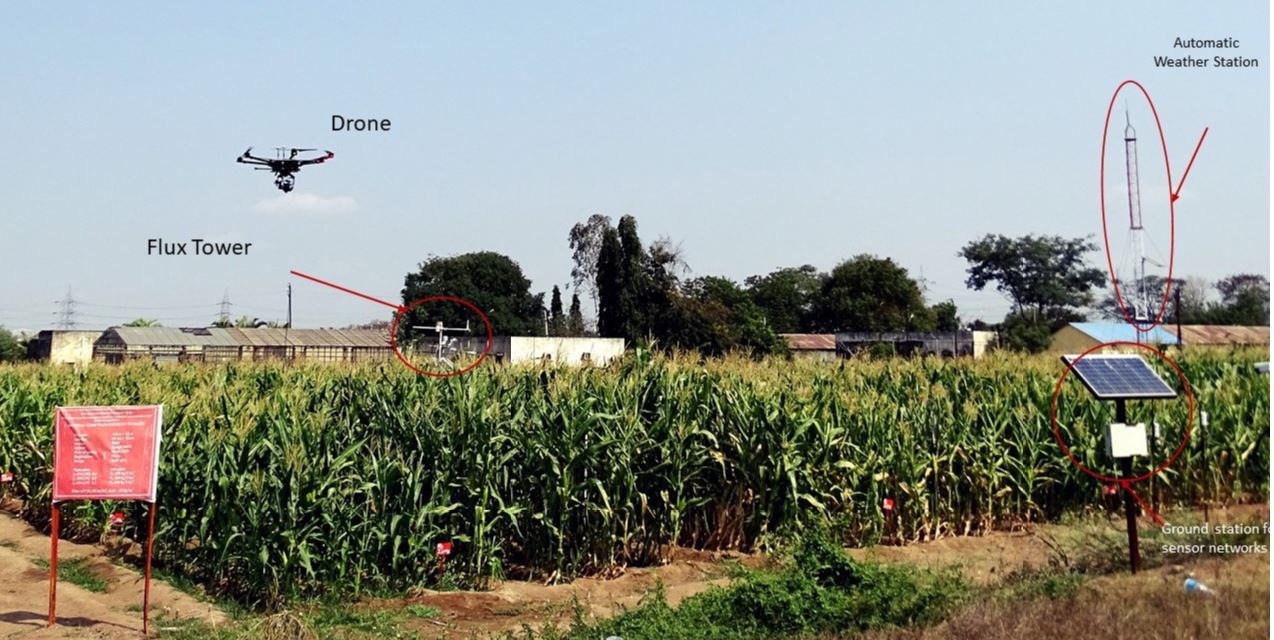 This is a joint project by India (DST) and Japan (JST) were the University of Tokyo, IIT-Bombay, IIT-Hyderabad, IIIT-Hyderabad, and PJTSAU have collaborated.
My input: This is part of my PhD project where my objective is to estimate crop water and nitrogen content using drone-based hyperspectral images.
Past projects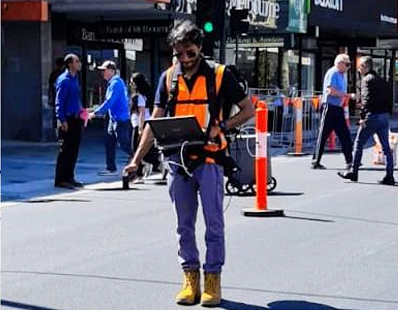 I am a part-time researcher on this project, responsible for hyperspectral data collection and analysis for early identification of any potential distress which might occur in asphalt pavement roads.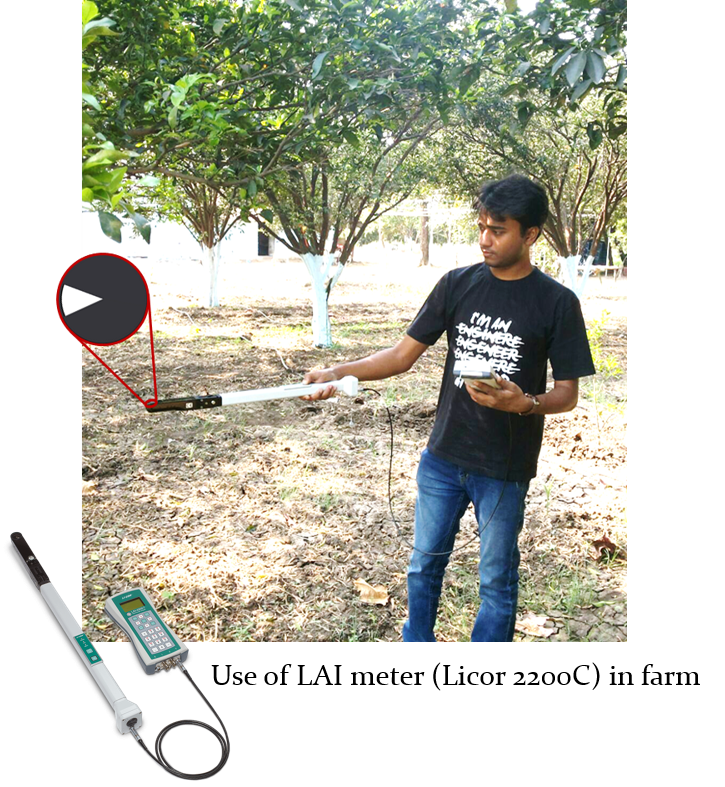 This was part of my M.tech project where my objective was to estimate citrus canopy LAI using drone-based RGB images.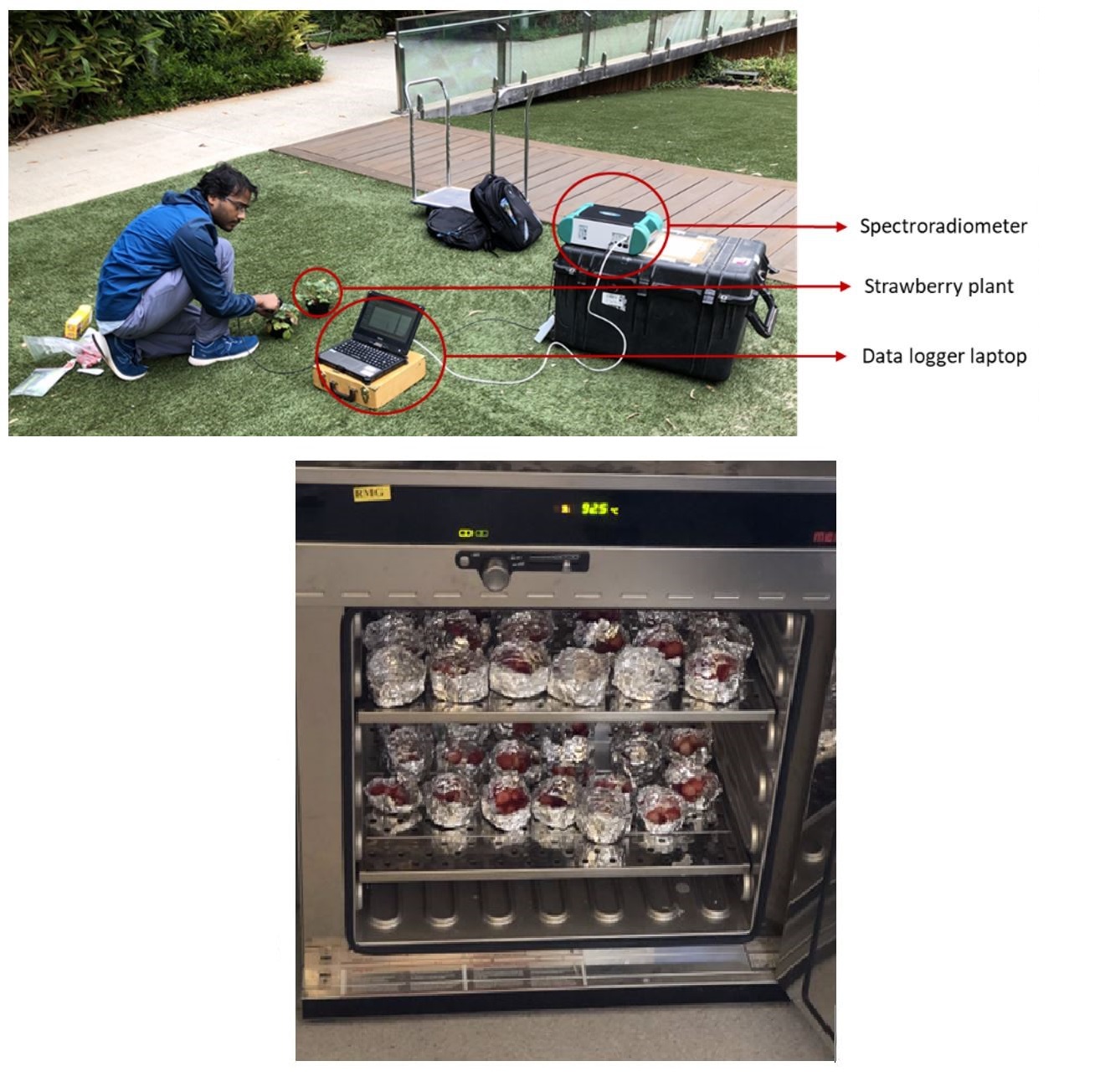 This is an additional project. My job is to use multispectral/hyperspectral images to find out the ripeness of the fruits.
Power flow Analysis on Agricultural feeder & Calculation of substation losses
Site: Karsul Village, Nasik. Maharashtra; CTARA, IIT-Bombay, Mumbai, India Stayed in a remote village of Maharashtra (Karsul village, Nashik), India and did a detailed study on Agricultural consumer side electricity consumption and carried out an energy audit for agricultural feeders (feeder to consumer level) and identified high loss places and suggested a potential way forward.
Bachelor's Project: DYPIET, Pune, India
Built Arduino-based wireless controlled robot to climb on the vertical wall as well as a ceiling; The basic principle of Bernoulli's theorem is applied by using ducted fans to create airflow based pressure difference resulting in robot adhesion to the walls.
Rahul Raj, Jeffrey P. Walker, Vishal Vinod, Rohit Pingale, Balaji Naik, Adinarayana Jagarlapudi, Leaf water content estimation using top-of-canopy airborne hyperspectral data, International Journal of Applied Earth Observation and Geoinformation, Volume 102, 2021, 102393, ISSN 0303-2434, https://doi.org/10.1016/j.jag.2021.102393.
Rahul Raj, Jeffrey P. Walker, Rohit Pingale, Rohit Nandan, Balaji Naik, Adinarayana Jagarlapudi, Leaf area index estimation using top-of-canopy airborne RGB images, International Journal of Applied Earth Observation and Geoinformation, Volume 96, 2021, 102282, ISSN 0303-2434, https://doi.org/10.1016/j.jag.2020.102282. (http://www.sciencedirect.com/science/article/pii/S0303243420309259)
Raj, R., Suradhaniwar, S., Nandan, R., Jagarlapudi, A., & Walker, J. (2019, April). Drone-Based Sensing for Leaf Area Index Estimation of Citrus Canopy. In International Conference on Unmanned Aerial System in Geomatics (pp. 79-89). Springer, Cham.
Raj, R., Kar, S., Nandan, R., & Jagarlapudi, A. (2020). Precision Agriculture and Unmanned Aerial Vehicles (UAVs). In Unmanned Aerial Vehicle: Applications in Agriculture and Environment (pp. 7-23). Springer, Cham.
Soumyashree Kar, Rohit Nandan, Rahul Raj, Saurabh Suradhaniwar, J. Adinarayana. "Improving data management and decision-making in precision agriculture." In Burleigh Dodds Science Publishing ID: 9781786767295, April 2020
Suradhaniwar, Saurabh, Soumyashree Kar, Rohit Nandan, Rahul Raj, and Adinarayana Jagarlapudi. "Geo-ICDTs: Principles and Applications in Agriculture." In Geospatial Technologies in Land Resources Mapping, Monitoring and Management, pp. 75-99. Springer, Cham, 2018.
Coming soon…
Supervision
Staff
Mr. Rishav Sapahia
Hyperspectral data visualisation (Principal Investigator: prof. J. Adinarayana)
2018 to 2018
Masters
Mr. Purna Ram
AI Based Crop Modelling Using Hyperspectral Data (Main Supervisor: prof. J. Adinarayana)
2018 to 2019
Mr. Mahesh Patil
estimation of crop yield and stressed areas using hyperspectral images (Main Supervisor: prof. J. Adinarayana)
2019 to 2020
Mr. Rohit Pingale
DSFS project staff (Principal Investigator: prof. J. Adinarayana)
2019 to going on
Mr. Tarachandra Vidyasagar
ML approach on optical data for crop management
2020 to going on
Undergraduate
Mr. Matthew Tierney
Final Year Project (Main Supervisor: Prof. Jeffrey Walker)
2020 to Dropped
Mr. Aravind Bharathi
Crop height estimation using drone-based RGB images
2020 to 2021
Mr. Dishank Jindal
Crop stress estimation using drone-based biophysical products
2020 to 2021
Teaching Commitments
GNR617 - TA - Image Interpretation Laboratory
GNR619 - TA - Lithosphere and Biosphere (Core)
GNR631 - TA - Rural Informatics
Last modified: 22/06/2021