Professor Sunita Chauhan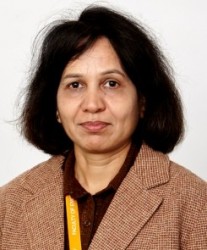 Professor Sunita Chauhan
Professor
Department of Mechanical and Aerospace Engineering
Room 201, 20 Research Way (Building 82), Clayton Campus.
Bio-mechatronics is an interdisciplinary area that encompasses bio-medical devices based upon principles of electromechanical systems, physiological mechatronics, robotics, control engineering, bio-mechanics, human factors, man-machine interaction, rehabilitation medicine and others. Also, techniques and modalities used for detection, acquisition and processing of signals from human patients, mechanics of tissue types, therapeutic and prosthetic devices prevalent in modern biomedical systems are involved. Advanced manipulation by the use of robotic technology and computational tools can be used in pre-planning, registration, and navigation of surgical devices utilizing the pre-operative and intra-operative imaging data. Computer integration and robotic techniques provide several benefits such as higher accuracy, precision and repeatability in positioning surgical tools and manoeuvring controlled trajectories.
Medical robotics, encompassing both intelligent diagnostics and therapeutic/surgical techniques, is the flagship area of research at the Bio-mechatronics Devices & Systems (BiDS) group led by Professor Sunita Chauhan. In conjunction with computer-assisted imaging that provides digitized images for precise location and function of diseased areas, robotic techniques can deliver several benefits such as higher accuracy, precision and repeatability in positioning surgical tools and manoeuvring controlled trajectories.
The group investigates into pre-and post-operative surgical planning platforms, real-time imaging and dedicated robotic systems both at macro- and micro-scales, applicable to detection and treatment of several diseases affecting different parts of the human body. Chauhan et al. pioneered one of the early non-invasive, blood-less surgery robots nicknamed FUSBOTs, using multi-probe high-intensity-focused-ultrasound for the brain, breast and abdomen reaching organs such as liver, kidneys, prostate etc. Surgical simulation techniques, both virtual simulation and physical (smart mannequins), are being devised to train the surgeons for better treatment outcomes and also to save the lives of thousands of animals that would otherwise be used for this purpose. The group collaborates with leading clinical champions at hospitals both nationally and internationally.
Qualifications
Master of Technology (M.Tech.), Instrumentation and Controls, Bio Medical Insrumentation, National Institute of Technology, Kurukshetra, India, (Prev. R.E.C.K).
Doctor of Philosophy (Ph.D), Medical Robotics, Imperial College of London.
Expertise
Medical/Surgical Robotics.

Bio-Mechatronics.

Intelligent Diagnostics.

Robotics and Process Controls.

Devised Innovative Surgical Devices named - FUSBOTs (Focused Ultrasound Surgery Robots): for Neuro-Surgery, Urological Surgery, Breast-Surgery, Trans-abdominal Surgery.

MAMMOBOT: Minimally Invasive Robot for Breast Surgery.
Professional Affiliations
Board of Directors, Ultrasound Industry Association (USA).
Sr. Advisory Board: ResearchGate.
Editorial Board: Recent Patents on Medical Imaging.
Editorial Board: Intl. Jr. of Biomechatronics and Robotics.
Editor: Springer Reference (Medical Robotics/Bio-mechatronics)
Sr. Member IEEE: Member since 1998; Sr. member since 2006. IEEE- Robotics Automation Society.; IEEE- WIE Chapter – active committee 2008, Vice Chair 2009.
Honors & Awards
Awarded IEEE Asia Pacific Most Inspiring Engineer of the Year 2009.
IEEE Women in Engineering Magazine Dec. 2010– Most Inspiring Engineer of the Year.
Awarded OASIS fellowship and professional attachment at Kings College, London, UK.
Awarded Public Sector Innovation Award by TEC (The Enterprise Challenge, Prime Minister Office).
Awarded Research Outcome Award and Recognition (ROAR).
Awarded OAP Fellowship, NSTB, Singapore.
professional attachment at Klinikum Mannheim, Department of Urology, Faculty of Clinical Medicine, Ruprecht-Karls-University of Heidelberg, Germany.
Awarded British Commonwealth Scholarship/Fellowship award for research in Robotics and Artificial Intelligence for three years by the Government of UK under Commonwealth Fellowship/Scholarships.
Hind Rattan (Jewel of India)
honor date Jan 2015  honor issuer Intl' Congress of NRIs
Donor description Hind Rattan presented on the Eve of Indian Republic Day – in recognition of Outstanding Services, Achievements and Contributions in the area of Medical Robotics.
 Professional Association
Board of Directors: Ultrasound Industries Association, USA.
Sr. Member IEEE: IEEE- Robotics Automation Society, IEEE- WIE Chapter, Exec. Committee & Vice Chair 2009.
Member UIA, ISTU, Life member IACAS, Member SPIE.
Supervision
Project Supervision
If you are interested to read a Ph.D. or Masters of Engineering at Monash University in the following areas, Please feel free to contact: sunita.chauhan@monash.edu.
Medical/Surgical Robotics.
Bio mechatronics and Computer Assisted Surgery.
Bio-physics and physiological modelling.
Medical Ultrasound (ultrasound surgery/therapy, interventional imaging and remote sensing, assisted drug delivery etc.).
Bio-sensors/transducers.
Intelligent automated control.
Underwater and Airborne acoustics.
A range of FYP projects encompassing the above areas are available for the coming semester (students from Mechatronics stream, Mechanical Eng. Elect./Electronics Eng. all welcome to discuss your interest and the project scope could be tailored based on your background).
Research Projects
Current projects
NHMRC EQUIPMENT GRANT - MOTION CONTROLLER (GALIL)
Project Description
The NHMRC's objectives for awarding Equipment Grant funding are:
the need for Institutions to be strategic in the purchase of larger items of equipment that will benefit health and medical research in Australia.
Institutions are encouraged to support equipment that will be used collaboratively; and
where possible, Australian-made equipment should be purchased.
The following selection criteria stipulated by NHMRC must be addressed:
the equipment should support the highest quality health and medical research funded by the
NHMRC (or through another competitive grant process).
consideration should be given to the lack of access to similar equipment in the Institution or
region and thought should be given to the collaborative gain to be achieved through the use of the equipment (e.g. multi-user equipment which crosses disciplines, research groups and departments).
GALIL MOTION CONTROLLER – DMC4020 (2Axes)
The equipment is a multi-purpose motion controller.our original system design, we considered the patient set-up in prone position and the treatment to be delivered to the target sites in liver from under the surgical bed. However, we would also plan to make some extensions to the system considering various patient conditions where extended stay in prone position may lead to breathing complications. It may require to reach the whole liver volume since liver cancers may be found in all lobes, scattered throughout its volume.
Thus, alternate prone/supine patient positions may be preferred by the surgeon on case by case basis. The desired extension would require a minimum of two of its axes to be arranged as a 'bed-side' system, reaching over the patient for treatment in a supine position set-up.
Robotic Surgical System for Image Guided Non-invasive Focused Ultrasound Induced Ablation of Liver Cancers
Past projects
NHMRC Equipment Grant - Ultrasonic Pulser/Receiver
Recent relevant publications
Karimirad F, Chauhan S, Shirinzadeh B, Vision-based Force Measurement Using Neural Networks for Biological Cell Microinjection, Journal of Biomechanics, 2013 Dec 14. S0021-9290(13)00628-3.
Swandito Susanto, M Skote and S Chauhan, In Vitro Assessment of Combined Doppler Ultrasound and CFD modelling in Arterial Blood Flow Quantification, Flow Measurement and Instrumentation journal, Volume 33, October 2013, Pages 218-227.
Abhilash RH and Sunita Chauhan, Empirical modelling of renal motion for dosage compensation and targeting during robotic FUS, Computers in Biology and Medicine, 2013. S0010-4825(12)00187-4.
Farzaneh Ahmadi, Ian McLoughlin, Sunita Chauhan, Gail ter Haar, Bio-effects and safety of low intensity, low frequency ultrasonic exposure, Progress in Biophysics and Molecular Biology, 2012 Apr;108(3):119-38.
Chauhan S, Wang P et al., A computer-aided MFCC-based HMM system for automatic auscultation, Computers in Biology and Medicine, Volume 38, Issue 2 , pp 221-233, 2008.
MIME Theme
Medical/Surgical robotics, Computer Assisted/Integrated Surgery, Bio-mechatronics, Sensors/Transducers, Ultrasound in Medicine (Diagnostic, Therapeutic, Surgical), Medical Instrumentation, Robotics, Mechatronics, Advanced Control, Signal/Image Processing/fusion, Bio-mechanics (hard and soft tissue), Tissue characterization, Real-time Surgical Planning/Monitoring, Feedback and Control.
Editorial
Editor-in-Chief: Springer Reference (Medical Robotics/Bio-mechatronics Handbook) Invited Aug.2010 (forming the prospective editorial team); Scientific Advisory Board: Research Gate; Editorial Board: Recent Patents on Medical Imaging; Editorial Board: Int. Jr. of Bio mechatronics and Robotics.
Research Grants
Total research funding secured by the CI: ~$5millions.
In 2015, MIME's strategic funding is targeted to fostering new collaborative projects between clinician researchers in MIME partner hospitals, and researchers in the Faculties of Engineering and IT.
Two types of funding were available,
MIME seed funding: $10-$50K for new collaborative medtech research projects that will deliver an outcome in 12-18 months.
MIME PhD scholarships: for co-supervised PhD projects.
Last modified: 11/05/2020