Dr. Tanveer Adyel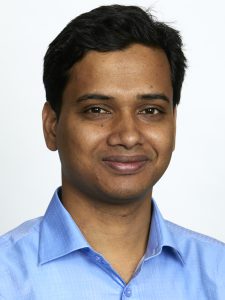 Dr. Tanveer Adyel
Lecturer in Water Engineering
Department of Civil Engineering
Room G09, 23 College Walk (B60), Clayton Campus, Australia/ SEU-Monash JGS, Room 8204, 377 Linquan St, Suzhou SIP, Jiangsu, China
Tanveer Adyel received his Ph.D. degree in Environmental Engineering at The University of Western Australia.  His research topic was to assess the performance of two constructed wetlands in stormwater nutrient attenuation over diurnal to decadal scale. Moreover, he developed a novel dissolved oxygen based "metabolism" as a proxy indicator of wetland function. Before joining Monash University, he worked at:
The University of Western Australia
Murdoch University, Australia
China University of Mining and Technology, China
Water Corporation (as iPREPWA Fellow), Western Australia
Qualifications
PhD, The University of Western Australia
Research Interests
Stormwater management and treatment; Water pollution control; Nature-based solution/Sponge city (wetland, bio-filter, green-wall technology); Micro-plastic management
Research Projects
Current projects
Benefits of green urban water infrastructure under a warming climate: A collaboration to improve urban and community resilience
This multi-disciplinary project brings together three early career researchers (ECRs) from Monash Faculties of Engineering, Information Technology and Science to investigate the significance of green urban water infrastructure (GI) on attenuating water pollutants and minimising the urban heat island effect under a changing climate. The project will bring together ECRs knowledge of GI design, monitoring, nutrient cycling, 2D image processing and data science to deliver optimum GI function for future cities. In addition to the research significance of this project, the outcomes will be used to deliver recommendations for future GI design by government and industrial stakeholders.
Integrated multi-functional green infrastructure (GI) or nature-based solutions (NBSs) for urban liveability and resilience
This project aims to investigate the performance of different green infrastructure i.e., green wall, green roof, constructed wetland etc for urban stormwater management under different hydrological and ecological conditions. Moreover, this project also looks for the retro-fitting of existing aging water assets for better performance under future climate scenario.
Selected publications:
Details in Google Scholar Page or Personal Web Page
T.M. Adyel, Jun Zhai, Jixia Yan, Yifei Rao, and Kwami Agbewornu (2019) Nano- and micro-plastics from wastewater treatment facilities: Looking for eco-technological solution. EGU 2019 Genral Assembly,  7–12 April 2019, Vienna, Austria.
T.M. Adyel, C.E. Oldham and M.R. Hipsey (2019) A retrofitted living stream to attenuate metal-containg stormwater run-off in Western Australia. In Managing Stormwater: Practices and Challenges for Reuse and Recycling, pp. 69-71, NOVA Science Publishers, Inc. USA.
T.M. Adyel, M. R. Hipsey and C. Oldham (2018) A multi-functional and multi-compartment constructed wetland to support urban waterway restoration. Water Practice & Technology, 13 (4): 764-770. Link
T.M. Adyel, M.R. Hipsey and C.E. Oldham (2017) Storm event-scale nutrient attenuation in constructed wetlands experiencing a Mediterranean climate: a comparison of surface flow and hybrid surface-subsurface system. The Science of the Total Environment, 598, 1001-1014.
T.M. Adyel, M.R. Hipsey and C.E. Oldham (2017) Temporal dynamics of stormwater nutrient attenuation by an urban constructed wetland experiencing summer low flows and macrophytes senescence. Ecological Engineering, 102, 641-661.
T.M. Adyel, C.E. Oldham and M.R. Hipsey (2016) Stormwater nutrient attenuation in a constructed wetland with alternating surface and subsurface flow pathways: event to annual dynamics. Water Research, 107, 66-82.
T.M. Adyel, S.Rahman, M. Khan and S.M.N Islam (2012) Analysis of Heavy Metal in Electrocoagulated Metal Hydroxide Sludge (EMHS) from Textile Industry by Energy Dispersive X-ray Fluorescence (EDXRF). Metals, 2, 478-487.
H. Rahman, D. Khanam, T.M. Adyel, M.S. Islam, M.A. Ahsan and M.A. Akbar (2012) Assessment of Heavy Metal Contamination of Agricultural Soil around Dhaka Export Processing Zone (DEPZ), Bangladesh: Implication of Seasonal Variation and Indices. Applied Science, 2, 584-601.
1. Interdisciplinary Seed Fund 2018, Faculty of Engineering-IT-Science, Monash University
2. 2018 Australia-Malaysia Travel Grant Scheme
3. Start-up Fund (2018-2020)
Teaching Commitments
CIV 5882 - Flood Hydraulics and Hydrology
CIV 5884 - Water Sensitive Stormwater Design
ENG 5005 & 5006 - Engineering Projects
Hiring PhD/MS students
I am hiring PhD/MS by research students. If you are interested then send email with up-to-date CV and academic transcripts.
Last modified: July 11, 2019