Professor Xiwang Zhang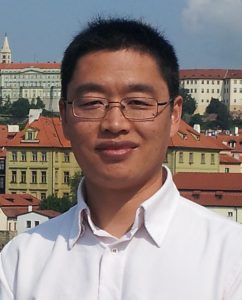 Professor Xiwang Zhang
Professor, Director of ARC Research Hub for Energy-efficient Separation
Department of Chemical Engineering
Room 213, 36, Clayton Campus
Prof. Xiwang Zhang is a Professor in the Department of Chemical Engineering at Monash University, the Director of ARC Research Hub for Energy-efficient Separation, and the Deputy Director of Monash Centre for Membrane Innovation. His research focuses on functional materials, membranes and advanced oxidation technologies for environmental protection and energy-efficient separation in various industries, e.g., water treatment, desalination, downstream bioprocessing, resource recovery, and production of green chemicals and renewable energy. Prof. Zhang has over 15 years of R&D experiences in both academia and industry with demonstrated achievements in technology development and translation. He was the recipient of the prestigious ARC Australian Research Fellowship and Monash Larkins Fellowship. Prof. Zhang's research achievements were covered by > 50 media outlets from more than 10 countries, including The Australian, ABC radio, Global Times, Science Daily, etc.
Qualifications
Bachelor of Engineering, China University of Mining and Technology
Masters of Engineering, Xi'an University of Architecture and technology
Doctor of Philosophy, Chinese Academy of Science
Expertise
Water and Wastewater Treatment; Membrane Technology; Advanced Oxidation Technology;
Research Interests
Prof. Zhang's research interests focus on membrane and advanced oxidation technologies for water and wastewater treatment.
Research Projects
Not started projects
Nanostructured bactericidal film with "memory photocatalytic activity" for continuous preventing the spread of infectious diseases through contact
Current projects
ARC Research Hub for Energy-efficient Separation
The Hub aims to develop advanced separation materials, innovative products and smart processes to reduce the energy consumption of separation processes which underpin Australian industry. The Hub focuses on the development, synthesis, characterisation and integration of advanced materials (membranes, adsorbents and resins), across scales to enable novel products. The intended research outcomes allow the majority of Australian industry to become more energy-efficient and cost-competitive in a global economy. The Hub also aims to develop a highly-trained, industry-ready workforce and advance Australia's capability as a world-leading technology provider in manufacturing advanced separation materials and equipment.
Non-polyamide-based polymer composite membranes for water processing
This proposal aims to develop an innovative two-dimensional nanosheets scaffold directed polymerisation technique for the fabrication of advanced membranes to address the key issues faced in the current polyamide membranes. The expected outcomes of the project include new membrane fabrication technology and nonpolyamide-based polymer membranes with outstanding oxidation tolerance and separation properties, thereby significantly simplifying membrane processes, and improving water processing efficiency in various industries such as wastewater treatment for power generation and clean drinking water production.
Development of Solar-induced, Dark-active Photocatalytic Membranes for Water Disinfection
Stormwater is one of the last freshwater resources that has not been utilized to its full potential. However, large amount of faecal pathogens in stormwater limit its harvesting practive. This project aims at addressing this significant problem by developing the next generation of photocatalytic membranes for stormwater disinfection. The proposed membranes not only are passive water treatment technology which only utilizes solar energy, but also are operated regardless of weather, even at night. The results will provide new insights on development of future water treatment technologies. This project will also raise Australia's credibility and competitiveness in the water and membrane industries.
High performance multifunctional hierarchical structured membrane for water processing
The water processing industry is one of the most important economic sectors in Australia, though water scarcity is an economic limiting growth factor. The project targets at developing the next generation water processing technology affordable to residential consumption and applications in the industry and agriculture.
Last modified: 07/06/2021