Dr. Zongyan Zhou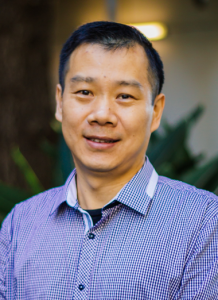 Dr. Zongyan Zhou
Senior Lecturer
Department of Chemical Engineering
Room 102, 33, Clayton Campus
Zongyan Zhou's Expertise are in, CFD-DEM, discrete element method, Multi-phase flow and heat transfer modelling, powder technology and iron-making blast furnace model.
Research Projects
Current projects
Particle-scale modelling of particle-fluid flows in gas and oil extraction.
This project aims to develop a particle scale model to describe the complex particle-fluid flow and erosion of pipeline transport in gas and oil extraction, quantify the effects of key variables, formulate strategies for optimum process control under different conditions. This will be achieved by means of a combined theoretical and experimental program, involving the use of the state-of-the-art discrete element modelling and simulation techniques. The research outcomes, such as theories, models and knowledge, should be useful for the process control of pipeline transport in the petroleum and energy-related industries which are of vital importance to Australia.
Micromechanical analysis of size segregation and its prediction in granular free-surface flows.
Size segregation is unavoidable in the handling and processing of granular materials. Its occurrence is of significant concern to the industrial sector, leading to unfavourable economic consequences. This project will carry out micro- and macroscopic analysis of size segregation by combined theoretical and experimental programs for a few industrial operations, aiming to develop an understanding of the underlying mechanisms, and formulate theoretical models for size segregation prediction. The findings can lead to the development of better control strategies, a decrease in energy consumption and an improvement in product quality for many particulate processes in the resource, energy, process, materials and allied industries.
Multiscale study of raceway operations for low-cost and stable ironmaking.
Pulverized coal injection is a ost-effective technology in blast furnace ironmaking, particularly if low-grade coal is used. This project will deliver a multiscale study of flow and thermochemical behaviour in the furnace raceway, aiming to develop control strategies for stable and low-cost operation. It will also assess and optimize the combustion of brown coal and its blends in this process. The project aims will be achieved via multiscale modelling and simulation, supported by lab/plant experiments. The outcomes will be useful to optimise blast furnace operations and to assess the performance of Australian brown coals in ironmaking. It can also help open a new market for brown coal and enhance the competitiveness of Australian economy.
ARC Research Hub for Computational Particle Technology.
This research hub represents a significant research into particle science and technology. It aims to develop and apply advanced theories and mathematical models to design and optimise particulate and multiphase processes that are widely used in the minerals and metallurgical industries. This will be achieved through detailed analysis of the fundamentals governing the fluid flow, heat and mass transfer at different time and length scales, facilitated by various novel research techniques. Research outcomes including theories, computer models and simulation techniques, as well as well-trained young researchers, will generate a significant impact across a range of industries of vital importance to Australia's economic and technological future.
The Australian Steel Manufacturing Research Hub.
The Australian Steel Manufacturing Research Hub will develop breakthrough process and product innovations to enable the Australian steel industry to improve its global competitiveness. It is based on an integrated, value chain-wide approach to innovation in the steel sector, including projects on innovation strategy and management, customer-focused product development, innovation in coating and surface engineering technology, and economic and environmental sustainability of iron and steelmaking. By ensuring sector-wide industry representation and collaboration with a number of leading Universities, the Hub will deliver tangible and lasting economic and environmental benefits, and ensure the nation's future research capacity in the field.
Last modified: 26/02/2019