Headaches and Depression - Overcome Now (HeaD-ON)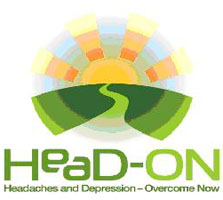 About Headaches and Depression - Overcome Now (HeaD-On)
Project background

Chronic headache is extremely common and can be very debilitating. This statement is true for both the major types of primary headache - migraine and tension-type headache. Chronic headache is associated with very high direct and indirect costs to society. Research studies have shown that individuals with chronic headache are at much increased risk of also suffering from mood disorders (i.e., depression). Anxiety disorders are also common in this group.
Cognitive behaviour therapy (CBT) has been demonstrated to be a highly successful form of treatment for chronic headache. This approach includes a number of methods such as relaxation training, pain management techniques, and techniques designed to challenge and modify the dysfunctional thoughts and beliefs that are associated with headaches and the triggers of headaches, such as stress. Evidence suggests, however, that individuals who suffer from chronic headache and depression respond less well to CBT.
The main aim of this research is to develop a treatment protocol for co-morbid chronic headache and depression, and to evaluate it. The research will also investigate predictors of response to treatment.
Participants for the research will be recruited from the general public with a target of 100 participants entering the trial, and an expectation that approximately 84 will complete the trial. To be eligible for the trial, participants need to be between 18 and 65 years of age, and diagnosed as suffering from chronic headache (tension-type headache or migraine, for at least 12 months), and major depressive disorder.
Participants will be randomly allocated to CBT or 'routine primary care' (RPC). CBT will be an integrated treatment approach to chronic headache and depression using techniques of proven efficacy for the two problems separately. Treatment will involve 12, 50-minute sessions, administered individually. RPC will involve case management by the GPs as they would in the absence of the study.
Headaches and medication will be measured by the participants keeping daily records on cards designed for this purpose. Standardised diagnostic procedures will be used for diagnosing mood and anxiety disorders. Levels of depression and anxiety will also be assessed using standardised instruments (questionnaires). Quality of life will be measured with questionnaires.
Assessment will include a four month follow-up; and a 12 month follow-up if funding permits.
Project funding and publications
This project is funded by a grant from beyondblue as follows:
Martin, P.R., Meadows, G., Reutens, D.C., Pitereman, L., Sharman, M., & Nejad, L. Cognitive behaviour therapy for co-morbid chronic headache and depression. beyondblue Victorian Centre of Excellence Grant; 2008: $100,000 and 2009: $100,000.
Hear Professor Paul Martin being interviewed by Dr Norman Swan on ABC Radio National's Heath Report segment - "HeaD-ON: Headaches and Depression - Overcome Now". This segment was aired 19 July 2010.
Project status

The HeaD-ON team wishes to thank those who have enabled the successful completion of the research.
If you would like further information about the research please contact:
The Project Manager
Dr Rachele Aiello on + 61 3 9594 1483
Email Rachele.Aiello@monash.edu
Or leave a message with our Administrative Assistant Maria Lawlor on + 61 3 9594 1465.