Simulation Modelling for Mental Health Services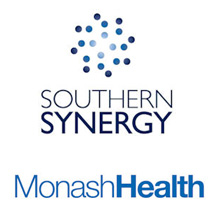 About Simulation Modelling for Mental Health Services
Brief description
Simulation-based decision support for mental health services management: the application of modeling technology to inform mental healthcare change management by incorporating epidemiological, service activity and budgetary data into pragmatic and relevant decision analysis and support tools.
Background
Mental health services managers must take into account multiple factors when making decisions about the most effective way to deliver care to clients. Currently, however, evidence to support decision-makers in choosing from a range of proposed mental health service configurations is commonly lacking. The current very public controversy regarding the desirability of reconfiguration towards early intervention would be a topical and important case in point. The increasing availability of epidemiological and service use data for mental illness and advanced modelling technology has made feasible the exploration of possible changes in the service system in a constructed virtual reality before resources are committed to the changes.
While simulation methods are widely used in epidemiology in policy research related to cardiovascular disease, public health preparedness and epidemic modeling, to date the application of simulation modeling in mental health care has been very limited. The work has been restricted to models depicting operational processes within individual components of mental health care systems, such as institutions or clinical services.
The focus of this research is the development of a modelling tool of broader scope than developed elsewhere and to date. The model will be constructed to capture both the operational service delivery and the population health perspectives. The constructed simulation builds on previously published work (see references below). It will allow scenarios regarding the delivery of mental health services to be simulated, enabling predictions to be made about the cost and quality of care in a virtual representation of these services and allowing policy alternatives to be explored safely and inexpensively.
Project team and partnerships
To deliver the project, we have assembled a multidisciplinary team from Monash University, Southern Health and the University of Calgary, with expertise in the following areas:
Funding support to the research program
2010-11. Monash Faculty of Medicine, Nursing and Health Sciences, strategic grant. $48,125.
ARC linkage 2011-2014. ARC contribution $184,000 with further support from Partners.
Scenarios for modelling
We are now working towards modeling the following scenarios:
Expansion of a community based mental health nurse initiative program

Redevelopment of enhanced early intervention services

Responding to demographic changes in Casey and Cardinia
Innovation of mindfulness-based cognitive therapy in the workplace
Time-related KPIs for admission from emergency departments
The System-Wide, Tailored and Enhanced Packages of Support (STEPS) program, providing packages of care for clients with complex needs (see below for schematic).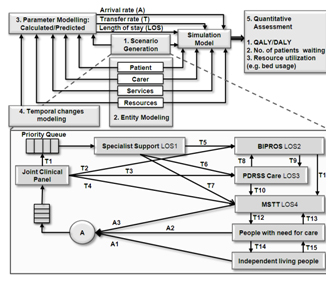 Figure 1: STEPS simulation schematic
Animated example of simulation modelling

View an animated example of simulation modelling incorporating epidemiological data as applied to major depression, with and without effective tertiary prevention. This model was developed by team member Prof Scott Patten in his work at the University of Calgary. Similar animations will be provided within the modelling tool to be developed for mental health services, to assist end users in their interactions with the modelling tool and to enhance their understanding of the outcomes of simulated scenarios.
References

Meadows G, Gielewski H, Falconer B, Kelly H, Joubert L, Clarke M. The pattern of care model: A tool for planning community mental health services. Psychiatric Services. 1997;48(2):218 - 223.
Meadows; G, Burgess P. Perceived Need for Mental Health Care - findings from the 2007 Australian Survey of Mental Health and Wellbeing. Australian and New Zealand Journal of Psychiatry. 2009;43(7):624-634.
Patten S, Meadows G. Linking Epidemiologic Evidence to Practice: Mindfulness Based Cognitive Therapy as a Case in Point. Psychiatric Services. 2009;60::1540-1542.
Patten SB, Gordon-Brown L, Meadows G. Simulation studies of age-specific lifetime major depression prevalence. BMC Psychiatry. 2010;10(85).