About us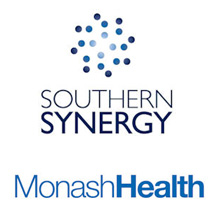 Vision and mission
Vision
The centre plays a significant and respected role in enhancing and better applying the evidence base for use by service planners, policy makers and clinicians engaged with mental health care. There is direct, regular and responsive engagement at multiple levels with services in the Monash Health catchment area while the influence of the work of the centre extends well beyond that and includes work of international significance. Regional, state, national and international research, practice and policy is informed by Southern Synergy's outputs. The work of the centre reflects commitment to a value set including equity, empowerment, efficiency and sound use of evidence at all levels of healthcare delivery and planning.
Statement of purpose
The centre exists to champion research, knowledge and understanding in mental health. This is achieved through the conduct and facilitation of high quality, regionally relevant translational research and training that is responsive to the local environment while constructed also to have wider applicability. Research work is developed in line with the overarching value set, then conducted, reported and disseminated so as to influence policy makers and health services in shaping a mental health care system that is continually focused on improving the health and wellbeing of the community. There is a particular focus on the southeast region of the State of Victoria while the work also is designed to have influence on policy, strategy and clinical practice at state, national and international levels.
Background of Southern Synergy
Southern Synergy was proposed as an initiative during the reorganization of Mental Health services operated by Southern Health through 2002. Following negotiations with Monash University, the outline plan for the establishment of the Centre was developed through 2002-2003. The Commitment from Southern Health to the Centre is: ongoing core funding for Southern Synergy comprising the full salary package of the Professor/Director, provision of an Administrative position and Research Assistant, provision of Business support and other infrastructure support services, with accommodation for the Director and support staff in existing research facilities at Dandenong Hospital, and provision for the development of a new Research Centre in the longer term redevelopment of Mental Health facilities on the Dandenong site. In addition to Southern Health funding, Monash University has provided significant funds to assist establishment of the professorial position.
Targeted and active recruitment to the Professor and Director of the Centre position led in November 2003 to the appointment of Professor Graham Meadows to this role. Professor Meadows had previously been Associate Professor of Acute Psychiatry with the University of Melbourne where he had developed clinical and service development interests particularly in primary mental health care, along with a major research interest in epidemiology and a long-term involvement in training the broad mental health workforce. Two substantial research and training grants were transferred from The University of Melbourne to Monash University with his new appointment.
Since late 2013 the Centre has been located in new purpose-built offices at Dandenong Hospital. Designed to optimise translational opportunities for work in mental health care, the facility has close co-location with the key leadership team of Monash Mental Health. Research expertise in the Centre currently includes training delivery and program evaluation; cluster randomised clinical trials including mindfulness based interventions and recovery-orientated practice; refugee mental health, economic analysis of mental healthcare programs, epidemiological surveys and clinical studies.
Collaborators
External collaborations include:
Menzies School of Health Research, Darwin, Australia
Refugee Health Research Consortium, Victoria, Australia
London School of Economics - Health Economics
Université de Montreal -Epidemiology
Université Paris 5 - Epidemiology
University of British Columbia - Epidemiology
University of Melbourne - Graduate Diploma; Health economics, epidemiology and program evaluation
University of Queensland - Epidemiology
University of Saskatoon - Epidemiology
University of Toronto - Mindfulness Based Cognitive Therapy
University of Western Ontario - Primary care service models
University of Wollongong - Adherence therapies
Yale University - Services evaluation
Major internal collaborations include:
Monash University - School of Primary Health Care
Southern Academic Primary Care Research Unit
Monash Institute for Health Services Research - Services Research
Monash University - Organisational Psychology - Organisational change in mental health services
Monash University Department of General Practice - GP training and intervention studies
Monash University - School of Nursing - Mental Health Research