Student research projects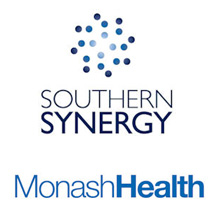 Student research at Southern Synergy
Students at Southern Synergy include Honours, Masters and PhD students. Research areas are: Adult Mental Health and Mental Health Services Research with a focus on vulnerable populations.
View the student projects currently available with Southern Synergy.
2018/19 Summer Scholarships at Southern Synergy
Synergy is offering summer scholarships to 1-2 students. Students are required to work full time or part time between November 2018 and February 2019 (exact dates to be negotiated with student). Students will be considered as a full member of the research team during the Summer Scholarship period and will be welcome to participate in research and staff meetings, staff mindfulness sessions, journal club and social activities.
"My time at Synergy was an eclectic and rewarding mix of experiences that helped lay the foundations of an interest in research for me. The skills I developed are ones that will definitely prove valuable in the coming years" Victor Yang, summer scholar 2014/15.
"...it has provided me with new skills which I have already been able to put into practice during my honours year. It was a truly valuable experience taking part in psychological research first hand, while learning about refugee mental health and mindfulness" Breana Burns, summer scholar 2014/15.
"I've thoroughly enjoyed the opportunity to utilise and apply my knowledge and skills from my pharmacy degree and work experiences while helping out with Southern Synergy's PULSAR project. Being able to collaborate with researchers who are experienced in their respective fields and work independently on the project, has allowed me to get an insight into what pursuing an honours year will be like. Southern Synergy's focus on mental health was what initially attracted me so being able to attend weekly mindfulness sessions and being involved in research directly related to mental health has made the experience all the more enjoyable and unique. Bill Nguyen, summer scholar 2017/18".
Eligibility and selection criteria are listed on the Winter & Summer Research scholarships website.
Instructions on how to apply for a 2018/19 Summer Scholarship at Synergy, (pdf, 70kb)
Bachelor of Medical Science (Honours) at Southern Synergy
Are you interested in wellbeing and mental health research with vulnerable groups such as refugees? Enhance your MBBS experience, help people, get into research, make discoveries, and give yourself career options with a BMedSci research project. Southern Synergy has a wealth of mental health research expertise and dedicated researchers who are experienced mentors for students.
We have projects requiring students:
A comparative examination of the mental health needs of refugees and asylum seekers
Medicare services for mental health care: An examination of horizontal and vertical comprehensiveness
Effect of group-based mindfulness based cognitive therapy on medication adherence in people with major depressive disorder
Mental health and Recovery-Oriented Practice: Are consumers' experiences of recovery aligned with recovery oriented practice across mental health service sectors?
Find out more
Projects at Southern Synergy can be designed for topics concerning mental health services research.
For more information about doing a BMedSc(Hons) and research projects at Southern Synergy contact: