Australian Climate conference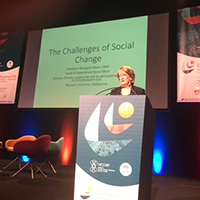 Professor Margaret Alston recently attended the National Climate Adaptation Conference hosted by CSIRO and the National Climate Change Adaptation Research Facility (NCCARF) at the national convention centre in Adelaide.
The conference brought together scientists, social scientists and various other disciplines to discuss the latest research on climate change. There were approximately 2000 attendees and Margaret's contribution was to give the plenary keynote on social implications of climate changes.