Mask study with Physio students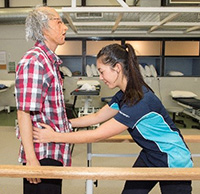 You could be forgiven for thinking you had walked into a hospital ward if you were wandering through the physiotherapy practical rooms recently. Third year physiotherapy students are donning masks and costumes to take part in an exciting new research project funded by a 2016 SPHC Learning and Teaching Grant and there have been lots of elderly 'patients' being put through their paces!
The research team, headed by Narelle Dalwood and involving Prue Morgan, Stephen Maloney, Cameron Gosling and Ruben Hopmans, are investigating low cost, low fidelity simulation as a method of preparing students for clinical placement and the realities of patient interaction. During the nine week pre-clinical programme students participate in peer simulation for four hours every Thursday morning. Clinical scenarios based on authentic patient presentations are used, and students take turns in playing the part of a 'patient' and a 'physiotherapist.' Tutors circulate the room and interact with the students as 'clinical supervisors'. The study is investigating whether the use of masks and costumes for the 'patients' increases the realism and educational benefits of the interaction. In the words of one student 'I felt more emotion towards patient, more empathy' and another 'thoroughly enjoyed the clinical simulation as it puts in perspective the real difficulties and problems that real life physiotherapists have to deal with'. The data from the randomised, controlled trial is currently being analysed and will provide important insights into the utility, feasibility and benefits of this exciting educational innovation.