Artist Spotlight with Allysha Joy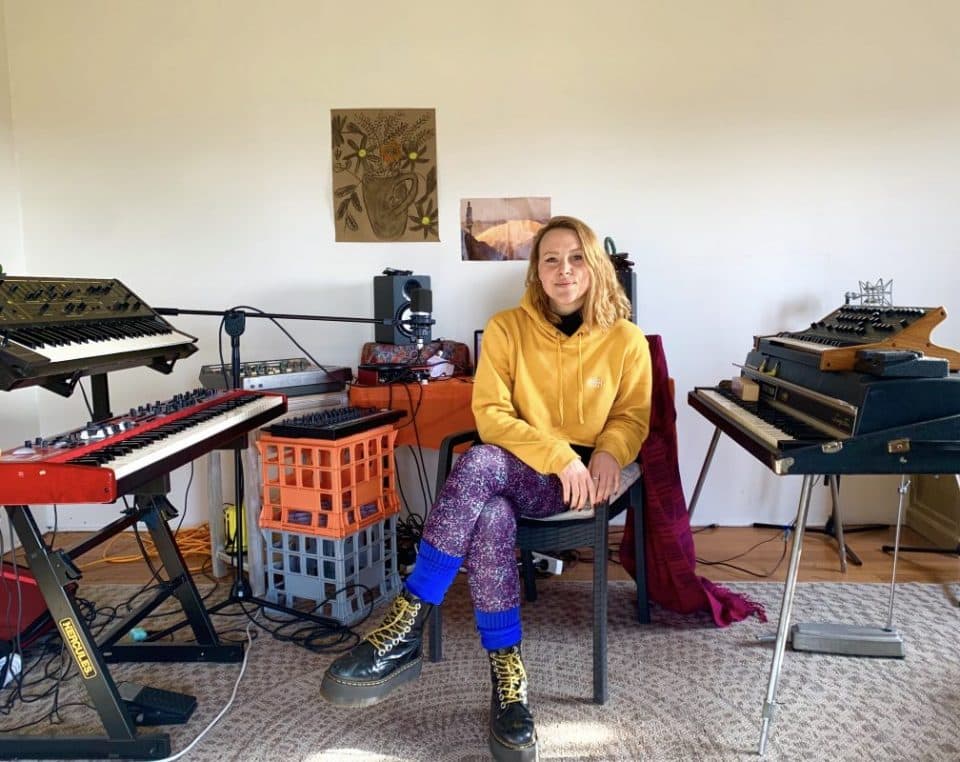 With festival cancellations, venue closures and live gigs on hold for the foreseeable future, the Coronavirus pandemic has had a devastating impact on the performing arts industry. With physical distancing in place, artists are using technology in new and creative ways to connect with audiences from home. We check in with some friends of MLIVE to find out how they are adapting to life in lockdown.
Allysha Joy featured as part of the Sound Gallery Sessions live streaming series in April this year.
MLIVE: Can you talk us through how the COVID restrictions and shutdowns have impacted you personally as an artist?
Covid has REALLY changed my plans for this year, but it's all good. I was going to be doing a lot of travel, firstly to Cuba with Ray Pereira on a drumming workshop, then to Europe to tour with 30/70, to America on a solo tour and probably back home to Australia for the summer here. I feel in some ways that life has offered me a restorative time instead, a time for deep reflection and learning and i am really grateful for that in a lot of ways.
MLIVE: During this time of social and physical distancing, how have you been maintaining connection? Have you managed to connect with your audiences in new ways?
I'm pretty bad at staying connected at this time. I'm generally not very good at phones or zoom chats as I prefer to kind of stay in the moment, wherever i am–being creative, listening to podcasts, reading, etc. It has really revealed to me the important caring and loving people in my life, the ones that show up for me and the ones that I pause for! In terms of audience connection, I struggle with social media and streaming and these sorts of things, so I have really struggled staying connected with my audience.
MLIVE: Have there been any important creative routines and rituals for you during these times?
Mmmm, definitely in the beginning i was writing everyday, practicing a lot and just chilling out. I go through phases of hard hitting creativity and inspiration, then have waves of needing to fill up the well and take it slow, so i just like to follow what feels good and not force it too much. I do practice or sing or write or create pretty much everyday but just in whatever way feels right in that moment.
MLIVE: What aspect of this period of isolation have you found the most challenging?
I've found it really challenging being disconnected from my audience. I gain so much out of connecting with people in the moment of performing, being able to chat to people after a show and have engaging conversations about what's happening in the world. I love touring and meeting new people and expanding myself socially so it's been hard to feel isolated in that sense.
MLIVE: Have you felt the urge to be more creative? Are you working on anything new?
I am always working on something new! My partner Finn Rees and I have made A LOT of new music through this time, some music for 30/70, for Close Counters (his project) and some music of our own so thats been really rewarding and expansive and fun! I'm finishing my second solo album at the moment, producing it myself and of course writing and creating lots of other little things, so there will definitely be some new music to share soon!
MLIVE: What do you think things might look like for the arts industry once things start to slowly open back up again?
I think (and hope) that people will be more engaged with their local scene, that people will feel a closer connection to the artists from within their own community and that there will be a greater appreciation for how much joy and energy the arts bring to our lives! I think it will be financially very hard for a lot of artists as we slowly return to gigging, so much support will be needed.
MLIVE: Any tips for staying grounded in a virtual world?
Oh good question! Just get out of the virtual world i say! I don't know I think so much of social media is an illusion. It tricks us into thinking that posting, or sharing in that space will give us the satisfaction and the validation that we need, but so often this is not the case. We need to cultivate safe, inclusive, caring spaces for sharing and I just don't think the virtual world allows for the interpersonal connection and care that we all need in order to share in a way that creates positive change that i want to be a part of.
'I feel in some ways that life has offered me a restorative time instead, a time for deep reflection and learning and i am really grateful for that in a lot of ways.'
MLIVE: Given we're all spending a lot more time at home these days, what has that experience been like for you? Can you describe your home studio or work station set up if you have one?
I've been really blessed to be living on Boon Wurrung country, on the Peninsula during Covid. We have a studio right near the water and my partner and I try to spend a lot of time outdoors when the weather is good. I just feel so grateful to have had the opportunity to create a space for my self during this time to relax and create.
MLIVE: What is the first thing you'll do in a post-COVID world?
Mmmmm, I'm not really sure. I definitely want to move to Europe and get back to performing again but I guess this time has taught me that nothing is for certain in this life and I just want to roll with it, keep creating, keep trying to bring music and love and light to the world by doing what i do and inspiring others to do the same.
MLIVE: What song or album is getting you through?
Cleo Sol – One
Find out more about Allysha Joy here.