Community research
About Community Research
Investigating the relationship between food, eating behaviour and nutrition in children and adults aims to understand and enhance the communities' ability to reduce obesity, lead healthier lifestyles and have access to healthy foods.
How to set up a Community of Practice (CoP) for Nutritionists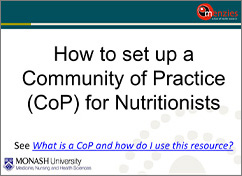 How to set up a Community of Practice (CoP) for Nutritionists (ppsx, 541mb)
A collaborative project by Monash University and Menzies School of Health Research nutrition departments (funded by Australian National Preventative Health Agency) titled 'A workforce development model supporting public health nutritionist's working with remote community stores - employing a Community of Practice', has concluded with the development of a resource to support other like Community of Practice groups to be established for health professionals working in rural and remote areas.
This resource has been based on the wealth of information available through Centers for Disease Prevention and Control, Communities for Public Health.
The project team welcome your feedback on the resource. If you have comments or questions please contact Claire Palermo.
The Victorian Healthy Food Basket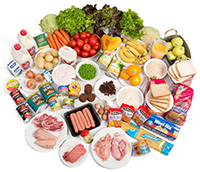 The Victorian Healthy Food Basket1 survey, developed in 2007, is a tool that assesses the affordability of a healthy diet. The basket provides both healthy food choices and foods that represent typical purchases of Victorians. The healthy food component of the basket provides enough food to meet the nutritional needs of four different family types for a fortnight.
References
1. Palermo C, Wilson A. Australian and New Zealand Journal of Public Health. 2007;31:360-3.