Education research
Competency Assessment in Nutrition and Dietetics
We are committed to continuing to enhance students' learning experiences. Initiatives have involved the introduction of structured simulation modules to assist in optimally preparing students for practicum placement.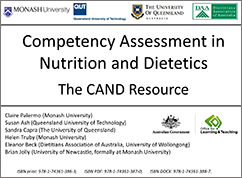 Competency Assessment in Nutrition and Dietetics (ppsx, 103.9mb).
The recently completed project which our department led, in partnership with the University of Queensland, Queensland University of Technology and the Dietitians Association of Australia (funded by the Office of Learning and Teaching) titled 'Professional competence standards, learning outcomes and assessment: Designing a valid strategy for nutrition and dietetics', has culminated in the development a resource to support best practice assessment of competence. The project team welcome your feedback on the resource. If you have comments or questions please contact Claire Palermo.
We work in partnership with industry where our mission statement 'to advance translation of the science of nutrition, sleep and activity to enhance the healthy lifespan of all Australians' can be promoted.