Latest News
School of Public Health & Preventive Medicine Excellence Awards
We are proud to announce the achievements of two of our former students who received awards at this year's SPHPM Excellence Awards.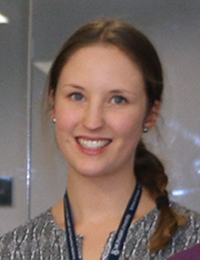 Emily Roberston
Top Student: Bachelor of Biomedical Sciences (Honours)
Emily completed her Honours year with the Women's Health Research Program in 2016 with her thesis entitled: 'A Study of the Wellbeing of Women after Lung Transplantation (WALT Study)'
Supervisors: Professor Susan Davis and Professor Robin Bell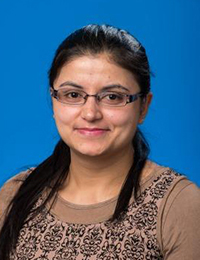 Pragya Gartoulla
HDR Thesis Excellence Award
Pragya graduated with her PhD in 2016 with her thesis entitled: 'Improving the Health of Women at Midlife: Health behaviours, wellbeing and work performance'
Supervisors: Professor Susan Davis and Professor Robin Bell
European Menopause and Andropause Society Congress - Amsterdam - May 2017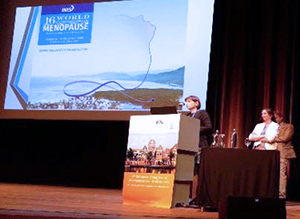 Professor Susan Davis was a guest speaker at the European Menopause and Andropause Society Congress in Amsterdam in May 2017. She spoke on the issue: "Is testosterone important for women as they age?"
In her presentation Professor Davis highlighted that low testosterone in ageing women has multiple potential undesirable consequences that have been somewhat ignored. In the brain, testosterone exhibits neuroprotection and clinical trials suggest treatment with testosterone enhances cognitive performance in postmenopausal women. Lower testosterone in older women is associated with a greater likelihood of a decline in bone mineral density and a greater risk of hip fracture.
Observational studies implicate testosterone as having favourable cardiovascular effects, however associations between a woman's testosterone level in the blood and heart disease risk, and total mortality, particularly in older women are yet to be established.
Quality clinical trials evaluating the effects of testosterone on cardiovascular disease risk, cognitive performance, musculoskeletal health and fragility fracture risk are needed.
Montreal Regional Meeting of the M8 Alliance - May 2017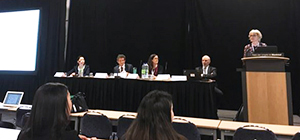 In May 2017, Robin Bell travelled to Montreal for the regional meeting of the M8 alliance.
The M8 alliance is a group of academic institutions, including Monash University, committed to improving global health. The alliance was established in 2009 with eight original members, including Monash University, but the group now includes 25 members from 18 countries. One of the main aims of the alliance is the translation of research from bench to bedside to population health. There is also a strong theme around medical education and at the meeting in May the medical education stream focussed on teaching global health.
Robin Bell currently coordinates the teaching from the Monash School of Public Health and Preventive Medicine into the Monash medical course. At the M8 meeting she spoke about "Prevention Science and Public Health in Medical Education" highlighting the newly established program in Prevention Science, coordinated by Dr Basia Diug and delivered to second year medical students by Senior Staff at the Alfred Hospital Campus. The session was co-chaired by Professor Pierre Fournier from the University of Montreal and Professor Ben Canny from the University of Tasmania and included speakers from the National Institute of Public Health for Quebec and the University of Tunis as well as a medical student from the University of Montreal.