About us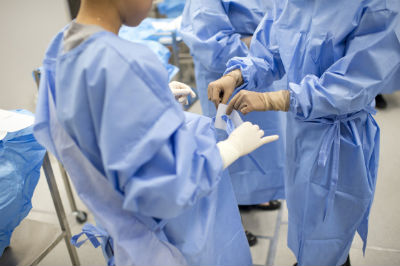 The Department of Surgery in the School of Clinical Sciences at Monash Health is a dynamic teaching and translational research hub. If you're interested in robotic cardiac surgery (in association with the Department of Engineering), cognitive function after cardiac and thoracic surgery or renal transplantation you've come to the right place.
Our Head of Department, Professor Julian Smith, has more than three decades experience in medicine and surgery; with career highlights including development of the Heartport system of minimally invasive cardiac surgery and establishment of one of the world's largest lung volume reduction surgery programs.
Our clinician-scientists are training tomorrow's doctors and researchers. Undergraduate students in the Bachelor of Medicine/Bachelor of Surgery Honours (MBBS Hons) program get hands-on, integrated medical and surgical experience from Year 3, and the opportunity to study at metropolitan and regional hospitals and clinical schools throughout our partner network.
We offer honours and postgraduate research projects centered around the laboratory, vascular biology, transplantation (chiefly renal and pancreatic) and clinical domains. Students and researchers benefit from our extensive interstate and international tertiary collaborations - one Bachelor of Medical Science Honours (BMedSci Hons) graduate recently returned from a sojourn at Columbia University in New York. Take your pick of a speciality in:
Cardiothoracic surgery
General surgery (upper gastrointestinal, hepatobiliary, colorectal, breast and endocrine)
ENT / Head and neck surgery
Neurosurgery
Orthopaedic surgery
Ophthalmology
Paediatric surgery
Plastic surgery
Urology
Vascular surgery including transplantation.
Find out more about current research opportunities now.