Dr. Andrew Rodda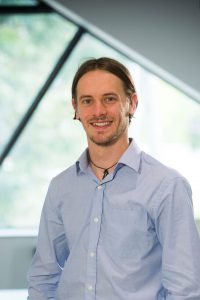 Dr. Andrew Rodda
Senior Teaching Fellow and Director of Education, Materials Science and Engineering
Department of Materials Science and Engineering
Room 317, 20 Exhibition Walk, Clayton
Andrew is a multidisciplinary engineer working to develop new technologies for biomedical applications. He received his PhD in Materials Engineering in 2014 from Monash University for work with synthetic cell microenvironments, following undergraduate studies in Mechatronics Engineering, Physiology and Mathematics. He has worked as a research scientist for Callaghan Innovation in the Medical Device Technology group, developing novel diagnostic assays, an R&D consultant for Aeroqual Ltd, and has worked in research groups at the University of Auckland and the University of California, Berkeley. He recently returned to Monash as an Assistant Lecturer in Materials Science and Engineering.
Qualifications
Doctor of Philosophy (PhD), Biomaterials Engineering, Monash University/CSIRO/CRC for Polymers
BE/BSc, Mechatronics Engineering, Physiology, Applied Mathematics, Monash University
Expertise
Surface biofunctionalisation

Material design to enhance specific biomolecular recognition

Polymer surface coatings

Cell adhesion

3D cell scaffolds

DNA diagnostic technologies
Research Interests
Dr Rodda's major research work to date has been in developing strategies to control surface interactions between engineered materials and biological molecules. These are of interest in diverse applications, including in studies of implantable cell scaffolds, cell microenvironments to support and direct stem cell development, low-fouling coatings and biosensors. Previous work has examined both the synthesis and application of novel materials, particularly polymers. He has also previously worked in the development of systems for the detection of biomolecules in complex samples, and in characterising cell responses (particularly neural and stem cells) to biomaterials both in vitro and in vivo. His most recent projects are examining new methods for detecting biomolecules, in particular focusing on the analysis of cell-free DNA for genotyping of cancer.
Last modified: 06/08/2021