A/Professor Jess Frith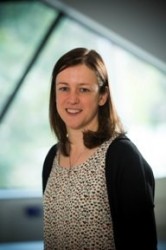 A/Professor Jess Frith
Associate Professor, Materials Science and Engineering
Department of Materials Science and Engineering
Room 301, 20 Research Way, Clayton
Dr. Jess is a Senior Lecturer in the Department of Materials Science and Engineering at Monash University. Her interests lie at the interface of biology and engineering. By combining aspects of biomaterials, stem cell biology and genomics, Jess hopes to understand how mesenchymal stem cells are guided by physical cues from their surrounding microenvironment and apply this knowledge to promote the repair and regeneration of damaged body tissues, such as bone and cartilage and intervertebral disc.
Qualifications
Doctor of Philosophy (PhD), Biology, University of York
MRes, Biomolecular Science (Distinction), University of York
BSC (Hons), Biology (1st class), University of York
Expertise
Mesenchymal stem cell

Biomaterials

Hydrogels

Mechanotransduction

MicroRNAs
Research Projects
Current projects
An innovative platform for using non-coding RNAs to control stem cell differentiation outcomes
Mechanical signals from biomaterial scaffolds are known to influence and even direct Mesenchymal Stem Cell (MSC) fate choices (e.g. proliferation, migration, differentiation). The considerable potential of these cells in many tissue enginering applications will thus remain untapped until we can efficiently direct their differentiation in these artificial microenvironments. The project will provide novel insights into how MSC-biomaterial interactions are regulated by non-coding RNAs and use this information to develop an innovative technology platform in which modulators of these non-coding RNAs, when delivered to cells using tailored biomaterial systems, will drive efficient differentiation of MSCs into desired tissue cell types.
Past projects
Controlling the adhesome to regulate cell fate on biomaterials
Mesenchymal stem cell-based tissue engineering practices are hampered worldwide by the lack of appreciation and understanding of the matrix-mediated cues that must be provided during adhesion and spreading to drive cells to definitive tissue end points. This project will address these knowledge deficiencies by combining high throughput array technologies, a set of tailorable self-assembling biomaterials and real-time biosensors to rapidly, at high resolution, elucidate how mechanotransductive cues determine the fate choice of mesenchymal stem cells, and furthermore, how to manipulate them with smart biomaterial design to achieve desired outcomes for tissue engineering.
Last modified: 19/05/2020