Dr. Joanne Tanner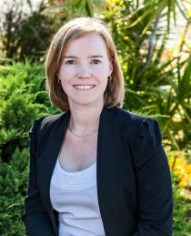 Dr. Joanne Tanner
Lecturer
Department of Chemical Engineering
Room 113, 59, Clayton Campus.
Dr Joanne Tanner completed her bachelor's degree in chemistry and chemical engineering at Monash University in 2008. She went on to gain industry experience in control systems design and configuration during her role at Honeywell, and subsequently managed and implemented client-driven chemical engineering research projects at laboratory, pilot and scale with HRL Technology. She returned to Monash as a doctoral candidate in 2012 and completed her PhD in the area of high temperature, en-trained flow gasification. She has designed, commissioned and demonstrated several fit-for-purpose, pilot scale reactors and has a close collaboration with the Institute of Energy and Climate Research, IEK-2, at Forschungszentrum Jülich, Germany, where she did some postdoctoral research. Dr Tanner's current research interests include biorefinery processes, waste biomass utilization for sustainable fuel and chemicals production, and closed loop recycling of waste plastics.
Qualifications
Doctor of Philosophy (PhD), Chemical Engineering., Monash University.
Bachelor of Science (BSc) / Bachelor of Engineering (BEng), Chemical Engineering, Honours., Monash University.
Expertise
Biorefinery.

Sustainable Processes.

Green Chemistry and Green Engineering.
Activities
Peer reviewer, Energy and Fuels (Journal)
Peer reviewer, Fuel (Journal)
Research Interests
Joanne Tanner's current research sits in the general area of sustainability and bio-refinery. Replacing traditional fossil fuel-based fuel and chemical production processes with analogous plants using sustainable biomass as the primary feed-stock. She is also interested in closed loop plastics recycling via thermo-chemical routes. She has industrial experience in the Process Control and industrial R&D sectors and a research background in thermo-chemistry and reaction engineering. She is familiar with batch, fluidised bed and en-trained flow reactor design for traditional and catalytic reactions. She is interested in reactor design and development, with a focus on the underlying chemistry of the process. Most of her projects are very hands on, and trying to involve industry partners as much as possible to make sure that her research is addressing real world problems. She is typically looking for projects that utilize an existing waste stream in order to add value to an existing process, create a new revenue stream, and increase the sustainability of our fuels and chemicals industry.
Research Projects
Current projects
Development of on-pack visual indicators of eating quality and freshness for beef and lamb products (Monash Grip program).
The red meat industry require a new set of on-pack visual indicators to enable a) consumer managed optimisation of the eating quality for high value meat cuts and b) to reduce wastage through monitoring of true shelf life and freshness of packaged meat products based on actual supply chain history. Meat & Livestock Australia have identified "smart" (active and intelligent) packaging as a key innovation theme as part of High Value Foods Frontier insights2innovation (121) program.
Super-absorbent solutions: Improving red meat quality.
This project aims at significantly improving the appearance, longevity and quality of retail ready red meat by using a renewable, efficient, low cost super-absorbent composite to absorb free blood (drip) released by the meat.
ARC Research Hub for Processing Lignocellulosics into High Value Products.
The Hub aims to convert renewable and readily-available biomass material and waste streams from the Australian Pulp, Paper and Forest Industry into new, high-value products that are in high demand in existing and developing markets. The Hub will leverage world-leading Australian and international research capabilities in chemistry, materials science, and engineering to create new materials, chemicals, companies and jobs in an emerging and newly diversified Australian bio-economy. Research will identify new applications and products derived from lignocellulose and will feed the pharmaceutical, chemicals, plastics and food packaging industries.
Past projects
A new pathway to sustainable products from Australian and German agricultural biomass waste.
This project will generate fundamental data for the development of a modified hydrothermal carbonisation (mHTC) process for the production of low cost, sustainable fuels and chemicals. Raw, agricultural biomass waste will be used as a feedstock to the process, eliminating the need for the costly and laborious drying and size reduction inherent to conventional processes. The aim of this project is to investigate the combined influence of: process variables; inherent feedstock properties, e.g. trace elements; and feedstock modifications, e.g., solvent treatment and inorganic additives, on the desirable and undesirable properties of the mHTC products.
Brown Coal Innovation Australia (BCIA) Postgraduate Research Scholarship - Joanne Moore.
Teaching Commitments
CHE3162 - Process Control
CHE4170 - Chemical Engineering Design Project
CHE4180 - Chemical Engineering Research Project
CHE5001 - Data Analysis
Last modified: 05/03/2020