A/Professor Lindsay Kleeman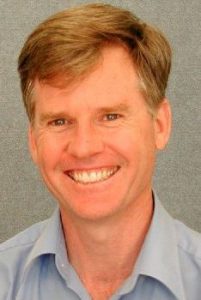 A/Professor Lindsay Kleeman
Associate Professor
Department of Electrical and Computer Systems Engineering
Room G16, 18 Alliance Lane, Clayton Campus
Qualifications
Doctor of Philosophy (PhD)
BE
BMath
Expertise
Computer Engineering

Robotic Sensor Systems

Robotics

Computer vision

Image and signal processing

Real time systems
Awards
2017, Best Student Paper Award: Yanming Pei and Lindsay Kleeman, "A Novel Odometry Model for Wheeled Mobile Robots Incorporating Linear Acceleration", presented at IEEE International Conference Mechatronics and Automation Aug 6-9, 2017.
2012, Best Student Paper Award, International Conference on Biomedical Electronics and Devices, Vilamoura Portugal Feb 2012 for paper entitled: "Mobile, Real-Time Simulator for a Cortical Visual Prosthesis", by Horace Josh, Benedict Yong and Lindsay Kleeman.
2008, Award for Excellence in Physical Sciences and Mathematics, presented to Lindsay Kleeman (and other authors) for Springer Handbook of Robotics, American Publishers Awards, Association of American Publishers, Inc.
2007, Best Student Paper Prize at the Australasian Conference on Robotics and Automation 2007 awarded to the paper by Alan Zhang and Lindsay Kleeman, "Robust Appearance Based Visual Route Following in Large Scale Outdoor Environments".
2005, Dean of Engineering Excellence Award for Research in the Department of Electrical and Computer Systems Engineering, Monash University ($2000).
2000, Nakamura prize (200,000 JapaneseYen) for the best paper at International Conference on Intelligent Robots and Systems 1999 (IROS'99) "Fast and accurate sonar trackers using double pulse coding" by Lindsay Kleeman
1984, IEEE Centennial Regional Student Award for Region 10 (India, Asia, Australasia, Pacific).
1983, University Medal in Mathematics, University of Newcastle NSW.
1982, University Medal in Electrical Engineering, University of Newcastle NSW.
Research Projects
Not started projects
Humanoid Robotics - Perception, Intelligence and Control
Current projects
Research Facility in Laser-Based Sensing and Tracking for Dynamic Measurements
IEEE International Conference on Robotics and Automation, Albuquerque, Usa 2) Research Visits in Usa
ARC Large 1995 - Dr L Kleeman
Past projects
To present a paper at the IEEE International Conference on Robotics and Automation and visit local industry and universities
Sonar sensing for mobile robot localisation and mappping
Ultrasonic sensor industrial tracking system
Research in bionic vision science and technology initiative. Direct stimulation of the visual cortex: a flexible strategy for restoring high-acuity pattern vision
The project will provide vision to sufferers of the three leading causes of blindness in Australia: Age-related macular degeneration (AMD), Glaucoma and diabetic retinopathy (DR), constituting 85% of all blindness. All three cannot be solved using retinal implants, so we will use intracortical microstimulation (ICMS) of the visual cortex, which bypasses the retina and optic nerve, allowing treatment of all visual impairments except the 7% that affect the brain directly. the project brings together a team of experts covering materials science, physiology, vision, electronic processing and neurosurgery. Their goal is human trial, then a commerical prototype with four years.
Real Time Ultrasonic Echo Processing
Present Paper, International Conference on Intelligent Robots and Systems, Kyongju, South Korea
Advanced Sonar Sensing for Robotics
Robotics research is heavily dependent on fast, accurate, reliable and cheap sensors. Sonar sensing can fulfil these requirements in air and underwater environments. This project will advance this sensor technology by providing sonar with high-speed accurate measurement and classification capabilities that function on moving platforms. The sonar will adapt and monitor differing environmental conditions allowing the sensor data to be integrated better with other sensors, such as laser and stereo vision. Interference rejection will be incorporated that will allow the sensor to operate in conjunction with other sonar. Applications of the technology will be robotic mapping, localisation, navigation and exploration.
Underwater Sonar for Simultaneous Localisation and Mapping
ARC Research Network on Intellingent Sensors, Sensor Networks and Information Processing
Sensor networks, a collection of diverse sensors interconnected via an aad-hoc communication network, are identified as one of the key technologies ahta over the next two decades will change the way we live. This research network brings together an interdisciplinary team of outstanding Australian researchers respresenting all the key disciplines required to successfully deploy sensor networks and links this team with the foremost international authorities and leading industry players in the area of sensor networks. This research network wil guide collaborative research that will ensure Australia to play a world leading role in sensor network development and implementation.
Centre of Research Excellence for Perceptive and Intelligent Machines in Complex Environments.
The Centre for Perceptive and Intelligent Machines in Complex Environments will perform fundamental research into and construct reliable large-scale systems of networked sensors, computational intelligence, mobile robots, and knowledge sources to support a large variety of critical human tasks, including surveillance/ security (eg. borders/airports/homes), health care support (eg. smart houses/ health condition monitoring , semi autonomous wheelchairs), and civil disaster support (eg. fighting bushfires, looking for people in rubble) always keeping people in the loop so that strong human/ machine cooperative ventures can achieve what neither human or machines could accomplish independently.
Last modified: 19/10/2017