Dr. Parama Chakraborty Banerjee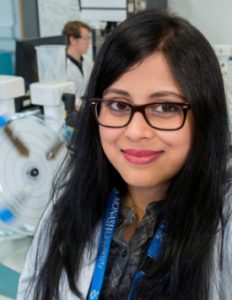 Dr. Parama Chakraborty Banerjee
Lecturer
Department of Chemical Engineering
Room 230, 36, Clayton Campus
Dr Banerjee has always been fascinated by the electrochemical processes, particularly in the areas of energy storage, conversion and corrosion. This fascination led her Monash University to pursue a PhD examining the effect of various surface modifications on the electrochemical kinetics of a degrading metal surface. After her PhD, she integrated her knowledge in electrochemistry with carbon-based nanomaterials and ventured into the field of energy storage and conversion. Her current research interest includes, electrochemistry of various interfaces, energy storage materials and systems, advanced carbon based materials, corrosion, functional coatings and nanotechnology and nanomaterials.
Qualifications
Doctor of Philosophy (PhD), Engineering, Monash University
Expertise
Electrochemistry, energy, batteries, supercapacitors, 2D materials, carbon, coatings, corrosion, nanomaterials, nanotechnology.
Awards
Dr Banerjee has received seven prestigious awards, the most significant being the Early Career Researchers Award from Cooperative Research Centres (CRC) Association of Australia.
Other awards include:
Monash Engineering Women's Leadership Award, 2017, Monash University, Clayton, Victoria-3800, Australia.
Monash Engineering Women's Leadership Award, 2015, Monash University, Clayton, Victoria-3800, Australia.
'Best poster award' (3rd place) in Corrosion and Prevention 2012, Melbourne, Victoria, Australia
Showcasing Early Career Researchers Award in the Three Minute Thesis category from Cooperative Research Centres (CRC) Association of Australia, 2011.
The Brian Cherry Forum Award for the best thesis presentation in corrosion science and technology from Australasian Corrosion Association (ACA), Victoria branch, 2011.
Award for outstanding oral presentation in the 1st Annual Monash University Chemical Engineering Conference, Department of Chemical Engineering, Monash University, Melbourne, Australia, 2011.
'Best Poster Award' in Australia-India Joint Symposium on Smart Nano Materials in Victoria, 2011.
Research Interests
Dr Parama's research interests include, electron transfer governs the pathway of chemical reactions. However, owing to their speed and size, tracing electron movement is difficult using traditional spectroscopy and synthetic chemistry. Consequently our knowledge of the driving forces for many reactions in nature remains elusive. Electrochemistry offers the potential to investigate these processes directly by the detection of electrons and ions involved. Electrochemistry has significant impact in our society. For example, many physiological processes in human body involve complex electrochemical reactions at electrified interfaces, energy storage and conversion in batteries, supercapacitors and fuel cells are governed by various electrochemical processes. Additionally, understanding and mitigation of corrosion problems, development of biomedical and other chemical sensors requires advanced knowledge of electrochemistry. Thus, Dr Banerjee's research focuses on the interdisciplinary area of electrochemistry with a focus on advanced micro to macro length scale energy storage systems, and advanced polymeric and nanostructured coatings for mitigation of corrosion in metallic systems.
Last modified: 09/07/2019