A/Professor Warren Batchelor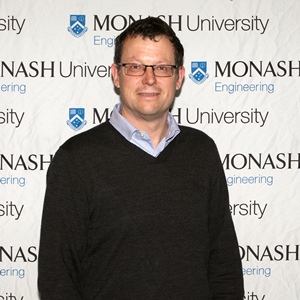 A/Professor Warren Batchelor
Associate Professor
Department of Chemical Engineering
Room 105, 59, Clayton Campus
Dr Warren Batchelor work's in the Australian Pulp and Paper Institute within the Department of Chemical Engineering at Monash University as a Senior Lecturer. He is an expert on paper as a nonwoven cellulose fibre material, including the relationships between sheet properties and internal structure and is the past Chairman of the Tappi Paper Physics Committee, the peak committee for the field. Dr Batchelor's qualifications include a BSc (Physics), BSc (Hons) (Physics), PhD (Physics).  Following completion of his PhD he undertook postdoctoral work at the Pulp and Paper Research Institute of Canada working at the Pulp and Paper Centre, University of British Columbia. He joined Monash University in 1996.
Qualifications
Doctor of Philosophy (PhD), Physics., Monash University
Expertise
Cellulose Fibres.

Paper Strength.

Life Cycle Analysis.

Nanomaterials.

Nonwoven Structure.

Sustainability.

Adsorbent Development.

Cellulose nanofibres.

Membrane separation.
Activities
PLoS ONE (Journal) – Editorial board member.
Prizes
Ken Maddern Award: Best paper published in the Appita Journal in 2013, Appita.
Outstanding research paper published in Tappi Journal in 2008, Technical Association of the Pulp and Paper Industry (TAPPI).
Research Interests
Dr. Batchelor's research group is heavily focused on the production and application of cellulose nanofibres.  These are a new, fully recyclable and biodegradable nanofibre made by breaking down cellulose fibres from wood or agricultural residue.  Reducing the fibre diameter by over three orders of magnitude reduces the size of the pores between the fibres, once formed into sheets, greatly improving the performance of the sheet as a barrier to water vapour and oxygen, or as an ultra-filtration membrane in liquid filtration.  The pore size can be further reduced by making composites of cellulose nanofibres and nano-particles.  Other applications of this versatile material include as an additive in paper manufacture, as a substrate for flexible printed electronics and as reinforcement in modern light-weight composites. His research group is currently developing,
New barrier materials from cellulose nanofibres.
New methods to rapidly make sheets from cellulose nanofibres for filter applications.
New sources of cellulose for nanofibres production, to reduce energy consumption.
Methods to quantify cellulose nanofibres quality development.
Research Projects
Current projects
ARC Research Hub for Processing Lignocellulosics into High Value Products
The Hub aims to convert renewable and readily-available biomass material and waste streams from the Australian Pulp, Paper and Forest Industry into new, high-value products that are in high demand in existing and developing markets. The Hub will leverage world-leading Australian and international research capabilities in chemistry, materials science, and engineering to create new materials, chemicals, companies and jobs in an emerging and newly diversified Australian bio-economy. Research will identify new applications and products derived from lignocellulose and will feed the pharmaceutical, chemicals, plastics and food packaging industries.
BioProcessing Advanced Manufacturing Initiative (BAMI)
BAMI will develop: 1) functional materials to maximize the value of forest resources 2) green chemistry & energy solutions for bioprocessing industries. Lignocellulosic streams will be converted into a complement of marketable materials, chemicals and energy products. Examples include new polymers and composites, smart packaging, chemical intermediates, fuel, green energy and nanocellulose and cellulosic fibre applications. These will drive advances in chemical engineering, materials and green chemistry for the full conversion of lignocellulosics. BAMI will complement research developments with short courses and a problem-based Masters in BioProcess Engineering to keep industry workers up to date with evolving science and technology.
Past projects
Self Assembling Polymers for Novel Packaging Products
This project will develop and test novel polymer systems as additives for the manufacture of a new generation of paper products with superior strength, especially under high moisture and wet conditions. The challenge is to produce very strong paper packagings made of recycled fibres resisting frequent moisture changes and that remain fully recyclable. Fundamental understanding of the assembling and morphology of polyelectrolyte and polyelectrolyte/nanoparticle complexes in aqueous solution as a function of polymer/nanoparticle chemistry, ionic strength and shear will be developed. The effect of the polymer and polymer complexes on the paper mechanical properties will be modeled under cyclic humidity conditions.
Novel Cellulosic Products and Sustainable Bioresource Engineering
This grant proposes a portfolio of linked projects to transform the Australian paper industry. Methods will be developed to assess industry and product sustainability and compare with competing materials. Chemical and treatment technologies will be developed to improve to radically reduce fresh water requirements for production. Innovative new products will be developed by controlling cellulose interaction with water to resist atmospheric and liquid water penetration, while reducing sheet density. Nano-structured zeolite-paper composites for greenhouse gas adsorption and storage and filtering applications will be developed and deployed for water use reduction. Innovative models will be developed relating structure to performance.
Last modified: 05/02/2021