Dr. Ye Lu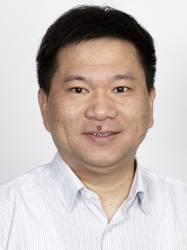 Dr. Ye Lu
Senior Lecturer in Structural Engineering
Department of Civil Engineering
Room 129, 23 College Walk (B60), Clayton Campus
Dr. Ye Lu received his PhD degree in Mechanical Engineering in 2007 from the School of Aerospace, Mechanical and Mechatronic Engineering at the University of Sydney, Australia. He was awarded an Australian Research Council (ARC) Discovery project including an ARC Australian Postdoctoral Fellowship (ARC-APD) in 2008. Currently he is a senior lecturer at the Department of Civil Engineering, Monash University.
Qualifications
Ph.D, degree in Mechanical Engineering, School of Aerospace, Mechanical and Mechatronic Engineering, University of Sydney, Australia.
Professional Association:
Member of Australian Network of Structural Health Monitoring.
Research Projects
Current projects
Nonlinear vibro‐acousto‐ultrasonic waves for fatigue cracking detection in key rail components.
Preliminary Study on long-span bridge health monitoring and prediction using advanced data management technique.
Resilient design for extremes from materials and structures to systems.
Multi-functional nano-modified cementitious materials for well cementing.
The integrity and longevity of well cement are paramount for the safe, efficient, environmentally sustainable
production of oil and natural gas resources. Cementing problems are the main factor contributing to incidents
during drilling and completion of wells. By incorporating different nano-materials in well cements, this project aims to develop multi-functional nano-modified cementitious materials with self-sensing properties and greater strength and durability under extreme conditions including high/low temperatures, high pressure and corrosive environments. It is expected that the novel cement developed will produce safer wells with fewer (gas) environmental emission risks, reducing the need for costly and wasteful remedial squeezes.
Past projects
Fundamentals of Damage Identification in Tubular Structures Using Guided Waves.
This project addresses fundamental but frontier issues and techniques that will lead to ultimate solutions for online integrity/safety assessment of tubular engineering structures. The most important outcome will be the development of fundamental knowldge and algorithms of guided wave-based damage identification in tubular structures in applications, putting Australia at the international forefront of techniques in efficient asset maintenance and management. This porject focuses on cutting-edge technologies, including sensor networks with signal filtering/processing and software/hardware integration, which will incubate the commercialisation of practical sensor networks, benefiting the intellectual leadership of Australia.
Teaching Commitments
CIV3221 - Building structures and technology.
CIV3222 - Bridge design and assessment.
CIV2226 - Design of concrete and masonry structures.
CIV4235 - Advanced Structural Design.
CIV5887/6887 - Infrastructure rehabilitation and monitoring.
CIV4212 - Civil Practice.
Last modified: 29/06/2018