Emeritus Professor Tamarapu Sridhar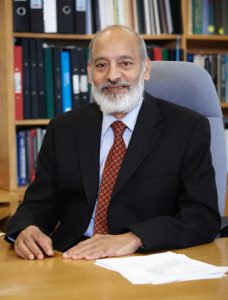 Emeritus Professor Tamarapu Sridhar
Emeritus Sir John Monash Distinguished Prof
Department of Chemical Engineering
Room 127B, 3A, Clayton Campus
A well-engineered career
Professor Tamarapu Sridhar is one of Monash University's longest-serving academics. His association with Monash began nearly 40 years ago in 1974 as a PhD fellow in Chemical Engineering. Today, as former Dean of the Faculty of Engineering, he serves as Vice President of the University's Indian and Chinese Initiative.
Professor Sridhar has had a distinguished career as an academic engineer, and is an outstanding scholar with an international reputation in the area of polymers. He is a Fellow of Engineers Australia, the Australian Academy of Technological Sciences and Engineering, the Institution of Chemical Engineers (UK) and the Australian Academy of Science. He was made an Honorary Fellow and awarded the GP Kane Award by the Indian Institute of Chemical Engineers. Professor Sridhar was awarded the Australian Centenary Medal for service to Australian society and science and the ESSO Energy Award for outstanding contribution in the field of chemical engineering. In 2004, he was Chair of the Institution of Chemical Engineers (Australia) and during his career he has served as a member of the ARC Panel on Engineering.
Professor Sridhar has an outstanding record of research, with over 140 publications. He has been awarded individually, or as co-investigator, around 44 competitive research grants and has supervised more than 22 PhD candidates. Professor Sridhar's tertiary education began at the University of Madras in South India, where he completed a Bachelor of Engineering, followed by a Masters degree at the Indian Institute of Science in Bangalore. As he considered his next step towards a PhD overseas, a colleague recommended Monash. He applied and was offered a PhD fellowship in 1973. Professor Sridhar first arrived at Monash in March 1974 to undertake his PhD in Chemical Engineering with the Faculty of Engineering. After completing his PhD, Professor Sridhar took up a senior teaching fellowship at Monash for two years, after which he joined the State University of New York at Buffalo, USA, also in a teaching position. He returned to Monash as a Senior Lecturer to continue the work started during his PhD and was promoted to Reader five years later.
In 1992, Professor Sridhar successfully applied for a professorial position within the Department of Chemical Engineering and became Head of the Department for the following eleven years.
At the end of 2002, Professor Sridhar entered his current role as Dean of the Faculty of Engineering. Professor Sridhar is the founding co-editor of the Korea-Australia Rheology Journal. He is also highly regarded as a consultant on chemical engineering matters, both nationally and internationally. Through years of distinguished service in research, teaching, community service and administration, he has helped to shape research excellence at the Faculty of Engineering, the University and the international research community.
Expertise
Chemical Engineering, Polymers
Professional Appointments
2014-current : Academic Vice President, China & India Research Institutes
2003-2013 : Dean, Faculty of Engineering
Department of Chemical Engineering, Monash University

1992-2003: Professor and Chairman
1987-1992: Reader
1982-1986: Senior Lecturer
1978-1980: Senior Teaching Fellow
1977-1978: Research Assistant

1981-1982: Assistant Professor, Department of Chemical Engineering, State University of New York at Buffalo, USA .
Awards
Centenary Medal for service to Chemical Engineering
ESSO award for significant contributions to Chemical Engineering
G.P.Kane Chemical Weekly Distinguished Speakership award
Professional Affiliations
Fellow Australian Academy of Science
Fellow, Australian Academy of Technological Sciences and Engineering
Fellow, Institution of Chemical Engineers
Fellow, Institution of Engineers, Australia
Australian Society Rheology (Past President)
Co Editor, Korea-Australia Rheology Journal
Activities
Guest editor, 2000, Korea Australia Rheology Journal (Journal).
Guest editor, 1999, Korea Australia Rheology Journal (Journal)
Research Interests
Emeritus Professor Tamarapu's research interest includes the following areas,
Gas liquid reactions: Studying the effect of mass transfer on chemical reaction especially at high pressures and temperatures in organic oxidations.
Polymer rheology: Measurement of extensional viscosity of polymer solutions and analysis of the behaviour of macromolecules in this flow field.
Research Projects
Current projects
Catalysis of Liquid Phase Hydration Reactions
BHP Melb Res Labs - Dr T Sridhar
Glaxo Aust P/L - Prof T Sridhar
CSIRO/Monash 1991/92 Grant-Dr T Sridhar
MD Res Co P/L - Potter/Sridhar
Fuel Cell Technology Development for Transportation Systems
Present Invited Paper At the X111th International Congress on Rheology, UK
Past projects
Flexible carbonaceous hybrid membranes for separation application
Establishment and operation of a joint research academy between Monash University and the Indian Institute of Technology at Bombay IITB
Biomedical Engineering Sensing and Imaging Facility
A major facility in biomedical engineering sensing and imaging is proposed. It will foster multidiscipline teams of medical and engineering researchers to develop innovative processes and technology for the prevention, diagnosis, and treatment of disease, for patient rehabilitation, and for improving health. The new facility will build on a number of existing research strengths and resources across the participating universities as well as the CSIRO and hospital-based research groups.
Uniaxial Extension of Polymer Solutions
Advanced NanoBiomaterials Imaging Facility
The convergence of nanotechnology with biotechnology offers unprecedented opportunities to prepare nanomaterials with defined structure and function on the nanometre scale. However, the small length scales involved in nanomaterials present challenges in their characterisation, and in turn, their interaction with biological systems. The Advanced NanoBiomaterials Imaging Facility will provide state-of-the-art equipment for examining the properties of nanomaterials and their interaction with biosystems. The equipment will facilitate the development of new materials that are expected to underpin advances in drug delivery, diagnostics and implant devices, further strengthening Australia's strong reputation in these areas.
Imaging Facility for Complex Fluids
This proposal seeks to establish a modern imaging facility to support a large number of research projects on complex fluids. The research groups benefiting from this facility have a long history of collaboration and a large number of research fellows.
Stress and birefringence in polymers
Nanomaterials Optical Characterisation Facility
The synthesis and characterisation of nanomaterials is an area of increasing research interest worldwide. A key challenge in this burgeoning field is the effective characterisation of the materials prepared, due to the inherently small length scales. We propose the establishment of Nanomaterials Optical Characterisation facility, which will contain cutting-edge instruments fro the examination of nanomaterials. This facility will underpin research by leading researchers at the University of Melbourne, Swinburne University of Technology and Monash University. This proposal will bring together researchers concerned with both the fabrication and characterisation of nanomaterials, promoting the natural synergies between the two communities.
Understanding the Behavior of Single-Walled Carbon Nanotubes in Liquids
A significant hurdle to using Single Walled Carbon Nanotubes (SWNTs) for manufacturing materials capable of unprecedented performance has been the difficulty of arraying SWNTs into ordered macroscopic samples such as fibres. This research aims to obtain a detailed understanding of the liquid-state processing of pristine SWNTs, which is currently the most promising route for overcoming this challenge. It will lead to progress in porting properties from individual nanotubes to macroscopic fibres or sheets, and to important advances in realizing the goal of manufacturing the ultimate material.
The flow properties of proteins and other biopolymers
The living cell is an extraordinary organization with a vast variety of biomacromolecules carrying out myriads of functions with great specificity and accuracy. The key issue in cell biology is to unravel the structures of biopolymers and the deep connection that exists between structure and function. This interdisciplinary research program combines recent advances in experimental nd theoretical rheology, with advances in protein science, to investigate the response of biopolymers to deformation. This approach will lead to insights into the problem of protein folding, the interaction of biopolymers with surface, and the physical basis for the mechanical properties of biopolymers.
Optimized constitutive equations for predicting polymer turbulent drag reduction
Fundamental studies in extensional rheology of polymers and biomacromolecules
Long molecules such as polymers, DNA and other biopolymers are of significant practical and fundamental interest. The behaviour of such polymers in extensional or stretching flows and the consequent stresses generated can be measured as a result of advances in instrumentation pioneered at Monash University. This research program builds on this foundation to understand the effects of molecular architecture on the properties of macromolecules and to rigorously test several innovative theoretical concepts that have been advanced over the last 20 years. Such knowledge allows the tailoring of polymer shape to their end use and permits the design of novel polymers.
DNA Dynamics is shear and extensional flows: Simulation and single molecule experiments
The proposal seeks to establish a collaboration between Monash University and Standford University in order to combine several recent experimental and theoretical advances that have been made by the individual groups in single molecule experimental techniques, extensional rheometry, and molecular rheology to obtain new insights into the structure and dynamics of biopolymers. The central aim is to make a significant contribution towards bringing state-of-the-art techniques used for the characterization of polymeric systems to bear on the nature and origin of the elastic properties of biopolymers.
Simultaneous Reaction and Extraction
Imaging Polymer Conformation
Teaching Commitments
CHE4118 - Chemical engineering research project
Last modified: 23/12/2020