Dr. Yihai Fang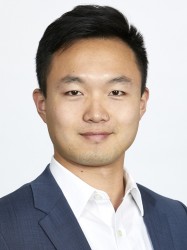 Dr. Yihai Fang
Lecturer in Construction Engineering and Management
Department of Civil Engineering
Room 153, 23 College Walk (B60), Clayton Campus
Dr Yihai Fang is a Lecturer in Construction Engineering and Management at the Department of Civil Engineering at Monash University.  He received his B.Sc. and Ph.D. in Civil Engineering from Tongji University in 2011 and the Georgia Institute of Technology in 2016, respectively. He then worked as a Postdoctoral Associate at the College of Design, Construction and Planning at the University of Florida. Yihai's research interests include Construction Automation and Informatics, Construction Robotics, Digital Twin for Construction and Built Environments, and Construction Safety and Human Factors.
Qualifications
Ph.D, Civil Engineering, Georgia Institute of Technology, USA, 2016
B.Sc, Civil Engineering, Tongji University, China, 2011
Expertise
Construction Automation and Informatics

Construction Robotics

Digital Twin for Construction and Built Environments

Construction Safety and Human Factors
Academic Appointments
Monash University, Australia                                                         Aug 2017 – Present
Lecturer, Department of Civil Engineering
University of Florida, Gainesville, FL                                                        2016 – 2017
Postdoctoral Associate, College of Design, Construction and Planning
Georgia Institute of Technology, Atlanta, GA                                            2011 – 2016
Graduate Research Assistant, School of Civil and Environmental Engineering
Active Reviewer for Journals
ASCE Construction Engineering and Management
ASCE Computing in Civil Engineering
ASCE  Management in Engineering
Safety Science
Automation in Construction
Advanced Engineering Informatics
Tunnelling and Underground Space Technology
Frontiers in Built Environment
Engineering, Construction and Architectural Management
Research Interests
Dr. Fang's research interests include Construction Automation and Informatics, Construction Robotics, Digital Twin for Construction and Built Environments, and Construction Safety and Human Factors. He has extensive experience in machine learning, sensing and 3D mapping, and Virtual and Augmented Reality (VR/AR). 
Research Projects
Current projects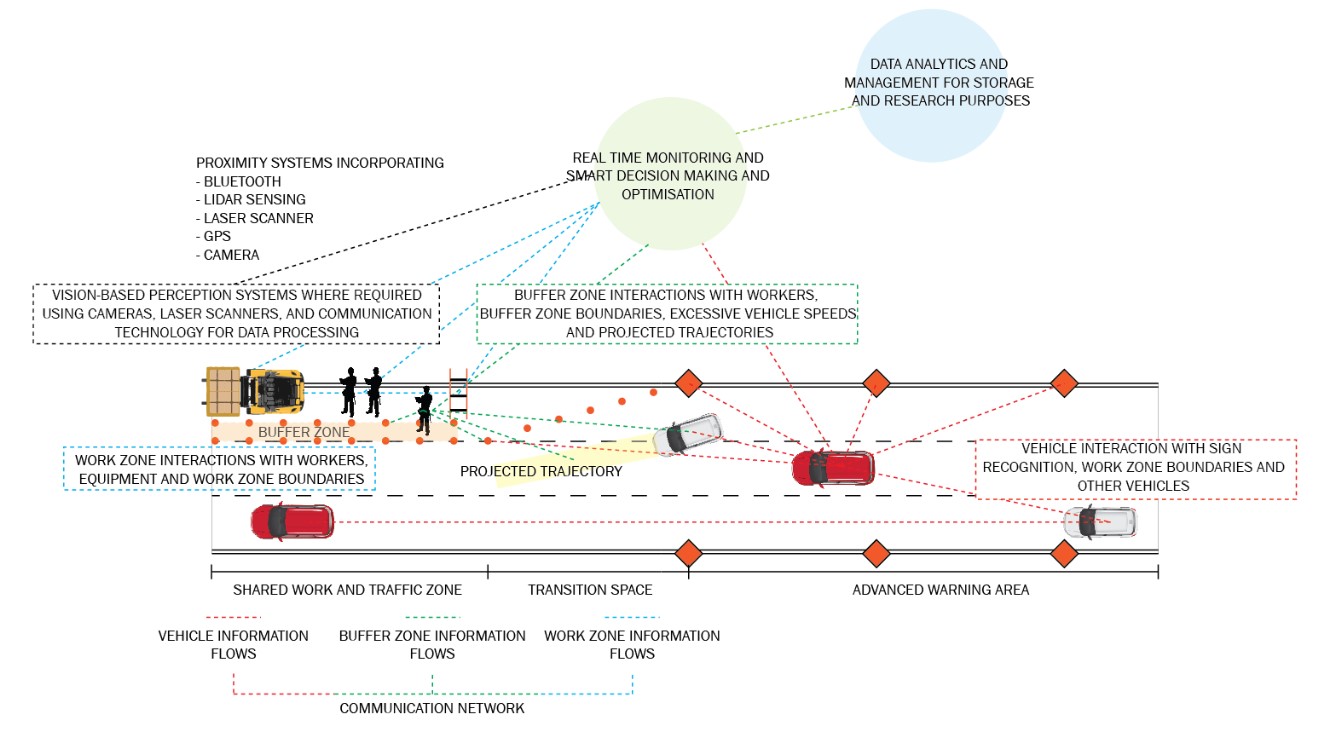 Enhancing road work zone safety through smart sensing and interaction with autonomous vehicles
Road work zones pose significant safety risks to motorists, pedestrians and construction workers because of changed road and traffic conditions, congested and dynamic workspace, and the interaction of traffic vehicles, construction equipment and workers in close proximity. In Australia, approximately 50 deaths and 750 injuries occur each year in road worksite crashes. The estimated cost of this is more than $400 million a year. This project envisions a theoretical framework integrating proximity sensing, vision-based perception and data acquisition systems into a holistic smart technological configuration capable of predictive decision. The integration of such smart systems provides a coherent view of road work operations, enabling real-time communication across multiple platforms and stakeholders, prompting collaboration between drivers, on-site workers, traffic engineers and infrastructure designers to better inform the implementation of future safety measures.
Funded by the Australian Research Council (ARC)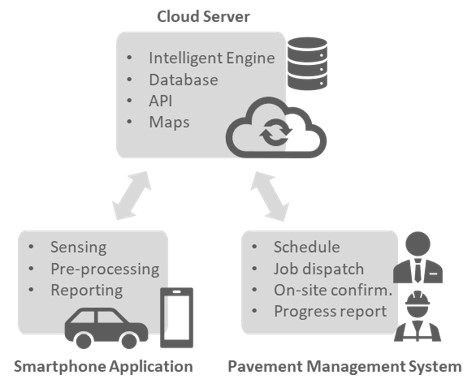 Development of crowdsourcing technology for pavement condition assessment including the use of smart mobile phones
Pavement deterioration such as potholes, cracks and reduced surface friction can damage vehicles and increase safety risks. Information about pavement conditions could help road users to avoid damaged roads and keep the relevant agencies informed so that remedy actions can be taken in time. However, conventional methods for pavement condition monitoring and assessment, especially for large road networks, are costly and time-consuming. Recent development in sensor hardware and data analytics algorithms, as well as the prevailing use of smartphones, provides new opportunities for collecting asset data in an accurate, timely, and cost-effective way. In addition, sensor systems aboard modern vehicles (e.g., ABS, suspension travel detectors, cameras) have the potential to provide additional data that can be used to assess pavement conditions.
Funded by the Australian Research Council (ARC)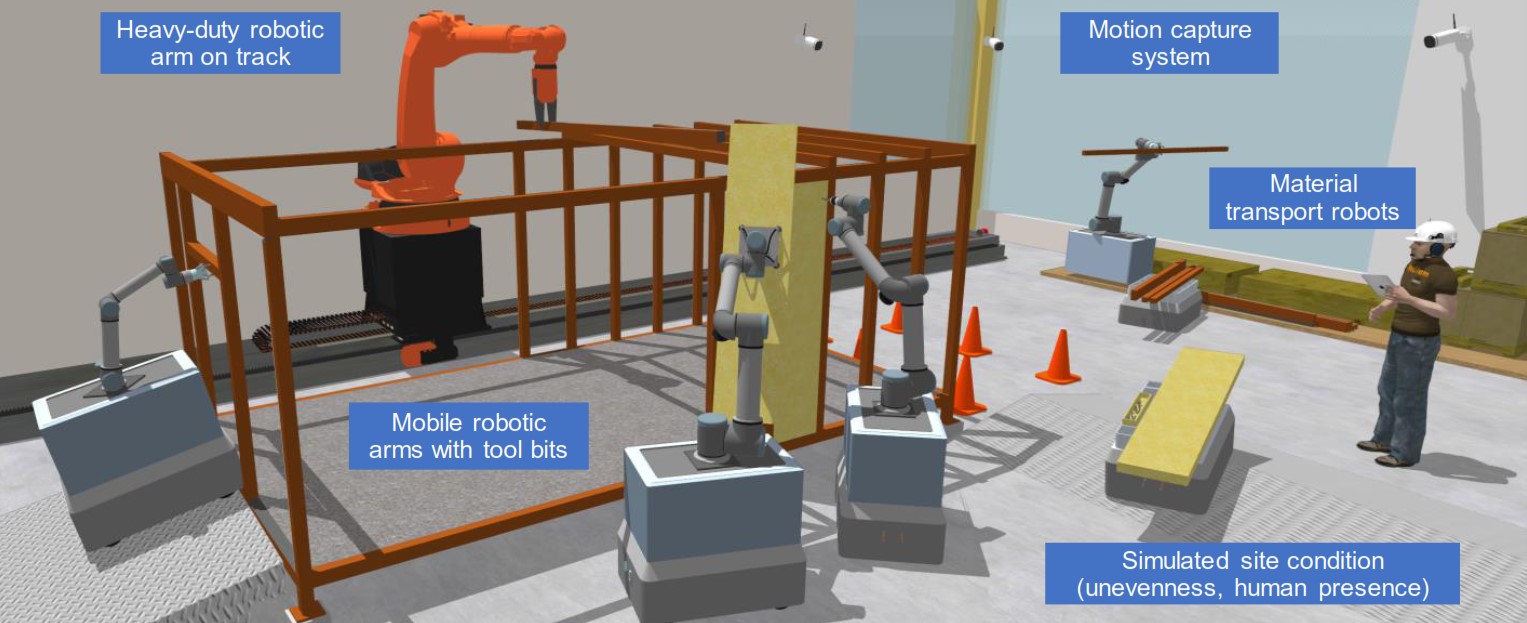 Collaborative robotics for structural assembly and construction automation
Recent robotic technologies present a great opportunity for the construction industry to improve quality and productivity while no state-of-the-art research infrastructure has been developed yet for this need. The proposed facility aims to provide a unique platform for research and development for structural assembly and construction automation. It features a flexible and adaptive design and instrumentation of structures and space for a team of collaborative robotics in an interactive environment to achieve automated prefabrication, assembly and building. The outcomes are expected to transform the current labor-intensive construction industry into a highly automated and accurate manufacturing industry with significant benefits to the economy and safety.
Funded by the Australian Research Council (ARC)
Characterising road roughness using accelerometer- and profilometric-based methods
Road roughness is an important indicator of the level of service and cost to the user of using the road.  Initially, until the 1990s, it was estimated through calibrated measurement of the displacement of vehicle chassis relative to the point of contact with the road.  In the 1990s, we developed the means to directly measure changes in profile height on the road and link that to the International Roughness Index (IRI). Both require specific and sometimes expensive equipment.
With the advent of smartphones and compact measuring and computing powers, attention is turning to use 3-axis accelerometry to estimate road roughness.  This is done through mobile phone apps and similar low-cost and uncalibrated technologies.  What is not known is the relationship between the definitive profilometric measurement of roughness and roughness measured by 'handheld' accelerometer devices such as mobile phones. This project aims to find the accelerometer-based method of measuring road roughness which provides the closest match to profilometric-based methods.
Funded by the Australian Research Council (ARC) and Australian Road Research Board (ARRB)
Past projects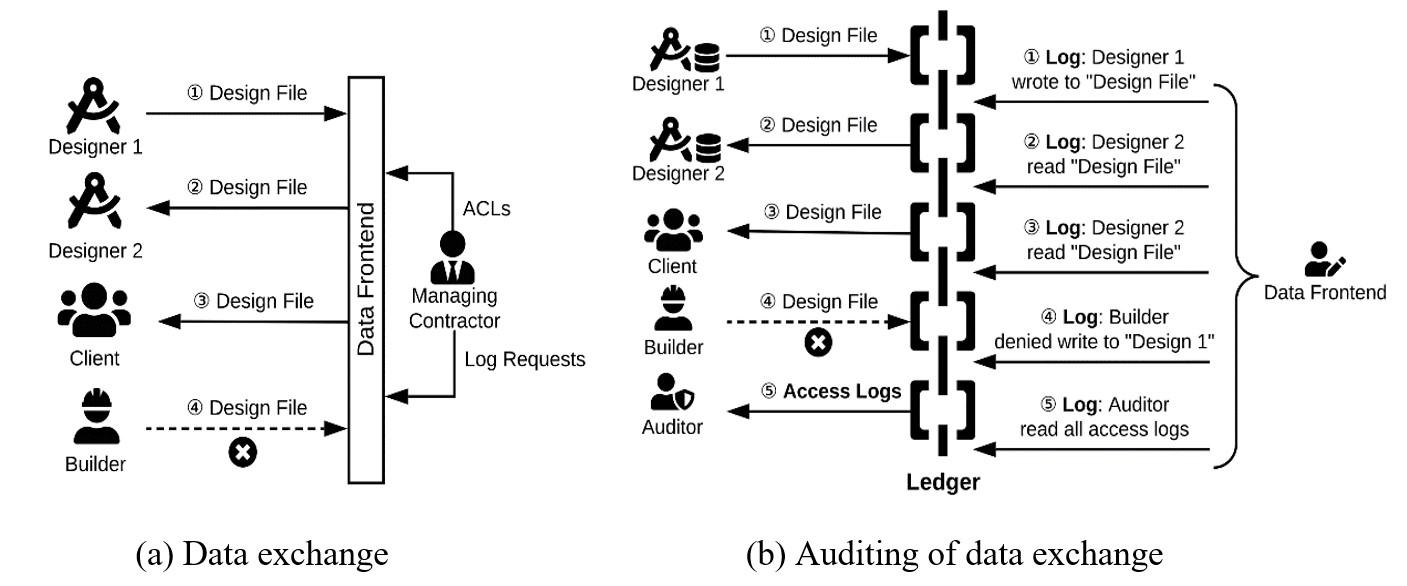 Building Information Modelling (BIM) is transforming the way infrastructures are planned, built and operated. BIM is a collaborative approach that relies on sharing data and models among all teams involved in project delivery. This promises increased efficiencies, but also raise new challenges in relation to data management and data security. This research project investigates and addresses how these risks can be minimized through adopting appropriate cybersecurity protocols and contractual risk allocations.
Funded by Monash Infrastructure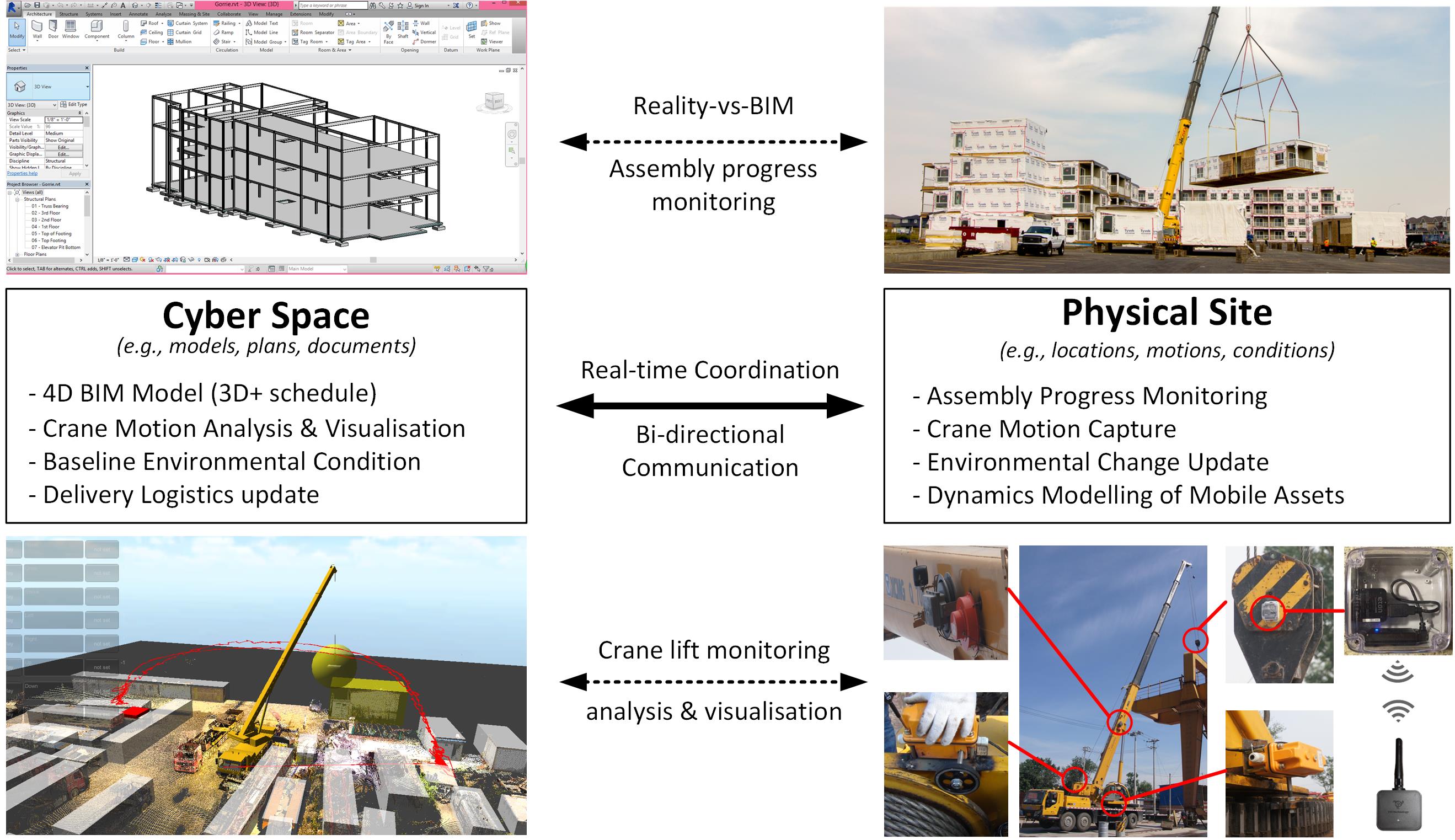 BIM-based Cyber-physical Systems for Intelligent Crane Operation in Complex and Dynamic Environments
The execution of construction project requires multiple interdependent actors to work synergistically in ever-changing and space constrained environments. A compelling demonstration of such scenario is crane lift operations. Cranes are an indispensable component in building and infrastructure construction that are responsible for transporting materials and equipment from delivery trucks or laydown areas to their installation locations. This project aims to develop a novel Building Information Modelling-based Cyber-Physical System (BIM-CPS) for intelligent crane lifting operation in complex and dynamic construction environments.
Funded by Monash Faculty of Engineering
Real-time Safety Assistance to Improve Operators' Situational Awareness in Crane Lifting Operations
Funded by the National Science Foundation (NSF), USA
Advanced Blind Lift Safety Using Crane Motion Sensors and Real-time Visualization
Funded by Chevron's Energy Technology Company (ETC), USA
Best Management Practices for the Storage of Historic Steel Trusses
Funded by the Georgia Department of Transportation (GDOT), USA
Peer-reviewed Journal Publications
Hu, S., Fang, Y., & Guo, H. (2021). A practicality and safety-oriented approach for path planning in crane lifts. Automation in Construction. [Link]
Guo, B. H., Zou, Y., Fang, Y., Goh, Y. M., & Zou, P. X. (2021). Computer vision technologies for safety science and management in construction: A critical review and future research directions. Safety Science. [Link]
Ma, L., Guo, H., & Fang, Y. (2021). Analysis of Construction Workers' Safety Behavior Based on Myers-Briggs Type Indicator Personality Test in a Bridge Construction Project. Journal of Construction Engineering and Management. [Link]
Guo, H., Yu, R., and Fang, Y. (2019). "Analysis of negative impacts of BIM-enabled information transparency on contractors' interests." Automation in Construction. [Link]
Fang, Y., Chen, J., Cho, Y., Kim, K., Zhang, S., and Perez. E. (2018). "Vision-based Load Sway Monitoring to Improve Crane Safety in Blind Lifts." Journal of Structural Integrity and Maintenance. [Link]
Kan, C., Fang, Y., Anumba, C. and Messner, J. (2018). "Real-time Cyber-Physical Systems (CPS) for Planning and Monitoring Mobile Crane." ICE Journal of Management, Procurement and Law. [Link]
Chen, J., Fang, Y., and Cho, Y.K. (2018) "Performance Evaluation of 3D Descriptors for Object Recognition in Construction Applications."  Automation in Construction. [Link]
Fang, Y., Cho, Y.K., Durso, F.T., and Seo, J. (2018) "Measuring Operator's Situation Awareness for Smart Operation of Cranes." Automation in Construction. [Link]
Chen J., Fang, Y., and Cho, Y. K. (2017). "Real-Time 3D Crane Workspace Update Using a Hybrid Visualization Approach." ASCE Journal of Computing in Civil Engineering. [Link]
Fang, Y. and Cho, Y. K. (2016). "Effectiveness Analysis from a Cognitive Perspective for a Real-time Safety Assistance Systems for Mobile Crane Lifting Operation."  ASCE Journal of Construction Engineering and Management. [Link]
Fang, Y., Cho, Y. K., and Chen, J. (2016). "A Framework for Real-time Pro-active Safety Assistance for Mobile Crane Lifting Operations." Journal of Automation in Construction. [Link] 
Chen, J., Fang, Y., and Cho, Y. K. (2016). "Principal Axes Descriptor (PAD) for Automated Construction Equipment Classification." Journal of Computing in Civil Engineering. [Link] 
Leite. F., Cho, Y., Behzadan, A., Lee, S., Choe, S., Fang, Y., Akhavian, R., Hwang, S. (2016). "Visualization, Information Modeling and Simulation Grand Challenges in the Construction Industry." Journal of Computing in Civil Engineering. [Link]
Fang, Y., Cho, Y. K., Zhang, S., and Perez. E. (2015). "Case Study of BIM and Cloud–Enabled Real-Time RFID Indoor Localization for Construction Management Applications." Journal of Construction Engineering and Management. [Link]
Teizer, J., Cheng, T., and Fang, Y. (2013). "Location Tracking and Data Visualization Technology to Advance Construction Ironworkers' Education and Training in Safety and Productivity." Journal of Automation in Construction. [Link]
Peer-reviewed conference publications
Hu, S., & Fang, Y. (2020). "Automating Crane Lift Path through Integration of BIM and Path Finding Algorithm" ISARC 2020. [Link]
Hu, S.,  Fang, Y. and Moehler, R. (2020). "BIM-based Lift Planning Workflow for On-site Assembly in Modular Construction Projects" ICCEPM 2020 [Link]
Goh, J., Hu, S., & Fang, Y. (2019). "Human-in-the-Loop Simulation for Crane Lift Planning in Modular Construction On-Site Assembly." Computing in Civil Engineering 2019: Visualization, Information Modeling, and Simulation. [Link]
Fang, Y., Chen, J., Cho, Y., Zhang, S., and Perez. E. (2018). "Enhancing Blind Lift Safety on Offshore Platforms through Real-time Sensing and Visualization" 18th International Conference on Construction Applications of Virtual Reality (ConVR). [Link]
Park, J., Kim, P., Cho, Y., Fang, Y. (2018). "Automated Collaboration Framework of UAV and UGV for 3D Visualization of Construction Sites" 18th International Conference on Construction Applications of Virtual Reality (ConVR). [Link]
Kan, C., Zhang, P., Fang Y., Anumba, C., and Messner, J (2018). "A Taxonomic Analysis of Mobile Crane-related Incidents in Construction Industry for CPS-based Simulation." 17th International Conference on Computing in Civil and Building Engineering (ICCCBE). [Link]
Fang, Y., Roofigari-Esfahan, N., and Anumba, C (2018). "A Knowledge-based Cyber-Physical System (CPS) Architecture for Informed Decision Making in Construction" 2018 Construction Research Congress. [Link]
Kan, C., Fang, Y., and Anumba, C (2018). "Use of Analytical Tools to Mitigate Mobile Crane-related Failures." 2018 Construction Research Congress. [Link]
Fang, Y. and Cho, Y. K. (2017). "Measuring Crane Operators' Performance and Situation Awareness during Lifting Operations." The 34th International Symposium on Automation and Robotics in Construction (ISARC).  [Link]
Chen, J., Fang, Y. and Cho, Y. K. (2017). "Unsupervised Recognition of Volumetric Structural Components from Building Point Clouds." 2017 International Workshop on Computing in Civil Engineering (IWCCE). [Link]
Chen, J., Fang, Y. and Cho, Y. K. (2017). "Mobile Asset Tracking for Dynamic 3D Crane Workspace Generation in Real Time." 2017 International Workshop on Computing in Civil Engineering (IWCCE). [Link]
Fang, Y. and Cho, Y. K. (2016). "Real-time Visualization of Crane Lifting Operation in Virtual Reality." 16th International Conference on Construction Applications of Virtual Reality (CONVR), 318-326. [Link]
Fang, Y. and Cho, Y. K. (2016). "A Framework for Lift Virtual Prototyping (LVP) Approach for Crane Safety Planning." The 33rd International Symposium on Automation and Robotics in Construction (ISARC), 291-297. [Link]
Fang, Y., Chen, J., Cho, Y. K., and Zhang, P. (2016). "A Point Cloud-Vision Hybrid Approach for 3D Location Tracking of Mobile Construction Assets." The 33rd International Symposium on Automation and Robotics in Construction (ISARC), 621-628. [Link]
Chen, J., Fang, Y., and Cho, Y. K. (2016). "Automated Equipment Recognition and Classification from Scattered Point Clouds for Construction Management Applications." The 33rd International Symposium on Automation and Robotics in Construction (ISARC), 218-225. [Link]
Fang, Y. and Cho, Y. K. (2015). "Advance Crane Lifting Safety through Real-time Crane Motion Monitoring and Visualization." The 6th International Conference on Construction Engineering and Project Management (ICCEPM), 321-323. [Link]
Fang, Y. and Cho, Y. K. (2015). "Analyzing Construction Workers' Recognition of Hazards by Estimating Visual Focus of Attention." The 6th International Conference on Construction Engineering and Project Management (ICCEPM), 248-251. [Link]
Fang, Y. and Cho, Y. K. (2015). "Crane Load Positioning and Sway Monitoring Using Inertial Measurement Unit." 2017 International Workshop on Computing in Civil Engineering (IWCCE 2015), 700-707. [Link]
Fang, Y. and Teizer, J. (2014). "A Multi-User Virtual 3D Training Environment to Advance Collaboration among Crane Operator and Ground Personnel in Blind Lifts." 15th International Conference on Computing in Civil and Building Engineering (ICCCBE 2014), 2071-2078. [Link]
Fang, Y., Teizer, J. and Marks, E. (2014). "A Framework for Developing an As-built Virtual Environment to Advance Training of Crane Operators." Construction Research Congress, 31-40. [Link]
Technical report
White, D.W., Teizer, J., Fang, Y., and Nguyen, T.V. (2013). "Best Management Practices for Storage of Historic Metal Truss Bridges." Federal Highway Administration, No. FHWAGA-14-1205. [Link]
Book Chapter
Fang, Y., Cho, Y. K., Kan, C., & Anumba, C. J. (2020). "Cyber-Physical Systems (CPS) in Intelligent Crane Operations." Cyber-Physical Systems in the Built Environment, Springer, 175-192. [Link]
Kan, C., Anumba, C. J., Fang, Y., & Messner, J. I. (2020). "CPS–Based System for Enhanced Mobile Crane Safety." Cyber-Physical Systems in the Built Environment, Springer, 193-213. [Link]
Beatty, R., Eastman, C., Kim, K., and Fang, Y. (2013). "Case Study 2: Texas A&M Health Science Center – A Case Study of BIM and COBie." BIM for Facility Managers, Elsevier, 164-184. [Link]
(Co-CI) ARC Linkage Infrastructure, Equipment and Facilities, "Collaborative robotics for structural assembly and construction automation" LE210100019, $664,580
(Lead CI) ARC Industry Transformation Hub Project, "Development of crowdsourcing technology for pavement condition assessment including the use of smart mobile phones" IH18.03.4, 2020-2024, AU$156,550
(Lead CI) ARC Industry Transformation Hub Project, "Enhanced road safety through smart sensing for road construction, planned interruptions/worksites and interaction with autonomous vehicles" IH18.03.7, 2020-2024, AU$163,550
(Co-CI) ARC Industry Transformation Hub Project, "Use of big data analytics including machine learning to interpret pavement condition data for pavement remaining life analysis and decision making" IH18.03.5, 2019-2023, AU$130,550
(Co-CI) ARC Industry Transformation Hub Project, "Remote sensing and advanced analysis of measurements of density through the possible use of appropriate sensing techniques, including LIDAR and GPS" IH18.03.3, 2019-2023, AU$264,705
(Co-CI) ARC Industry Transformation Hub Project, "Development of smart traffic management options with connected and autonomous vehicles (CAVs)" IH18.04.5, 2019-2023, AU$129,576
(Lead CI) Monash Infrastructure Seed Fund, Monash University, "A security-aware and contractually supported framework for data management in Building Information Modelling (BIM) enabled infrastructure projects" 2019-2019, AU$49,776
(Co-CI) Monash Infrastructure Seed Fund, Monash University, "Image-based crack evaluation and database design using bridge information modelling and artificial intelligence" 2019-2019, AU$49,776
(Lead CI) Faculty of Engineering Seed Fund, Monash University, "BIM-based Cyber-Physical Systems for Intelligent Crane Operation in Complex and Dynamic Environments" 2019-2019, AU$26,000
Supervision
PHD
Songbo Hu
Identification and Prevention of Crane Operational Hazards by Integrating BIM and Path Planning Algorithm in Construction Planning
2018 to 2021
Mostafa Hallaji
A Digital Twin-driven Framework for Predictive ‎Maintenance in Wastewater Treatment Plants using BIM ‎and Deep Learning
2019 to 2022
Jiantsen Goh
High-fidelity Simulation for Crane Lift Planning and Training in Complex Construction Environments
2021 to 2024
Qiqin Yu
Characterising road roughness using accelerometer- and profilometric-based methods
2021 to 2024
Yizhe Wang
2021 to 2024
Jiajun Li
2021 to 2024
Qishen Ye
2021 to 2024
Teaching Commitments
ENG1021 - Spatial Communication in Engineering
CIV5899 - Infrastructure Information Management
Last modified: 02/06/2021