Professor Michael Kennedy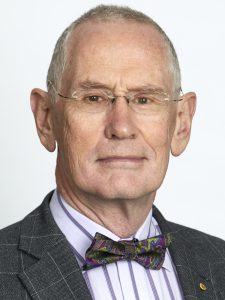 Professor Michael Kennedy
Monash ITS Leader of Industry Programs and Partnerships, OAM, Professor of Practice in Transport Engineering
Department of Civil Engineering
Room 121, 22 Alliance Lane (B69), Clayton Campus
Michael Kennedy OAM is Professor of Practice at Monash Institute of Transport Studies in the Department of Civil Engineering.
Commencing his career in the rail sector and then in bus services, Michael subsequently held senior management roles in road, rail and sea freight businesses, and in transport equipment manufacturing, always active in industry and professional peak bodies, with a strong focus on transport education. More than twenty years as a local government CEO saw Michael active in successfully advocating to government for public transport service improvements in Melbourne's growing Interface Council areas, and contributing to land use and transport planning for Melbourne's rapid growth, as a member of Ministerial Councils and committees.
Michael has a well-earned reputation as an innovator, developing an entirely new intermodal transport system including new ships, terminal systems, road vehicles and containers, all designed to cater for the needs of the market. Michael also pioneered the long-term outsourced contract management of an entire local road network when CEO of Mornington Peninsula Shire, saving Council $65 million, a first for Victoria. In 2013 under Michael's leadership the Shire won the TAC 'Towards Zero' Award for its 'Peninsula Safer Speeds' program, which reduced the risk of casualty accidents on targeted urban and rural roads.
Qualifications
Bachelor of Business, RMIT University
Doctor of Business Administration, Organisational Leadership Southern Cross University
Awards and Honours:
2019
Medal of the Order of Australia for service to the community through health and sporting organisations.
Last modified: 15/06/2018