Mr. Sohan Suvarna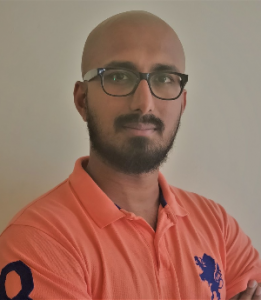 Mr. Sohan Suvarna
Doctor of Philosophy (IITB-Monash)
Department of Mechanical and Aerospace Engineering
Room 127, Engineering 37 (17 Alliance Lane)
Sohan is a Mechanical Engineering graduate from the National Institute of Technology Karnataka (NITK), Surathkal. After graduation, he worked as a Design Engineer at MECON Limited, a frontrunner consultancy firm in the Metallurgical sector. Apart from engineering and design, he has been actively involved in developing regression models to determine the performance of the company. During his study at NITK, he was a member of NITK UAV (Unmanned Aerial Vehicle) team and SOLVE (Students Online Learning through Virtual Experimentation) team. He was the Joint Convenor of Robotics Club and Technical Coordinator of Computer Society of India (CSI)- Student Chapter at NITK, Surathkal. His keen interest in aerial vehicles and automation has led him to pursue his doctorate in 'Design and Development of Autonomous Airships' under the guidance of Prof. Rajkumar Pant (IIT-B), Prof. Arpita Sinha (IIT-B) and Prof. Hoam Chung (Monash University).  His doctoral research is a multidisciplinary project which amalgamates the design, dynamics, control and system integration of an airship. He specialises in the field of unmanned aerial vehicles, mechatronics and lighter-than-air systems.
Link to student project: IMURA0370
Qualifications
Bachelor of Technology (Mechanical Engineering), National Institute of Technology Karnataka, 2012
Sohan Suvarna, Hoam Chung, Rajkumar S. Pant, "Design Methodology of a Small Unmanned Airship with Optimized Fins", 2019 International Conference on Unmanned Aircraft Systems (ICUAS), Georgia, Atlanta, USA, June 2019.
Sohan Suvarna, Dibyayan Sengupta, Pavankumar Koratikere and Rajkumar S. Pant, "Simulation of Autonomous Airship on ROS-Gazebo Framework," 2019 Fifth Indian Control Conference (ICC), New Delhi, India, January 2019, pp. 237-241.
doi: 10.1109/INDIANCC.2019.8715570
Sohan Suvarna, Shoeb Ahmed Adeel, Rajkumar S. Pant, "Design and Development of an Easily Deployable Indoor Finless Airship", 11th International Airship Convention, Bedford, UK, October 2017.
Sohan Suvarna, "Simulation and Validation of Airship Flight Dynamics", National Conference on Aerial Delivery and Airborne Surveillance Systems for National Security at ADRDE, Agra, India, October 2017.
Sohan Suvarna, Ashwin L. Nandagiri, Shritheja U., Pruthviraj U., "Unmanned Aerial Vehicle for Coastal Zone Management", Special Issue of International Journal Of Earth Sciences And Engineering, March 2011, pp. 84-87.
Last modified: 15/06/2020