Professor Julia Lamborn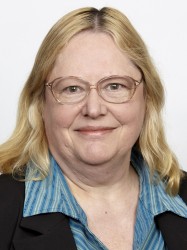 Professor Julia Lamborn
Associate Dean Education, Professor in Environmental Engineering
Department of Civil Engineering
Room 215, 14 Alliance Lane (B72), Clayton Campus
Professor Julia Lamborn received her BEng (Civil) GradDipChemEng; and MEng and PhD in Environmental Engineering, all from Swinburne University of Technology. Her PhD thesis was on landfill gas modelling. Julia is a civil, chemical and environmental engineer. She was employed by the State Electricity Commission of Victoria for 10 years as the Cooling Tower Thermal Design Engineer. During that time she designed the Loy Yang B natural draft cooling towers, supervised their construction, undertook the commissioning and oversaw the operation of the towers once the power station went into full production.
From 1990 – 2015, she has been employed at Swinburne University of Technology in the areas of civil, chemical and environmental engineering. She held multiple leadership roles during her time there including Director, Engineering Accreditation, Associate Dean (Education) and Associate Dean (Learning Innovation). In 2015 she was appointed as Professor in the Department of Civil Engineering and Associate Dean (Education) for the Faculty of Engineering at Monash University.
She has been very active within Engineers Australia and on State Government Statutory Authorities and Panels for over 30 years. She is currently one of two Engineers Australia representatives on the International Engineering Alliance.
Qualifications
Bachelor's of Engineering,(Civil)., Swinburne University of Technology.
Graduate Diploma in Chemical Engineering., Swinburne University of Technology.
Master's Engineering in Environmental engineering., Swinburne University of Technology.
Ph.D, in Environmental Engineering., Swinburne University of Technology.
Expertise
Landfill degradation behavior.

Landfill engineering.

Waste management.

Engineering Education.

Environmental Impact Assessment.
Julia represents Monash on a number of key committees:
Engineering Education Committee (Chair).
Faculty Executive Committee.
Learning and Teaching Committee.
Courses, Admissions and Programs Committee.
Academic Board.
Scheduling Services Group.
CEED Board .
She is also a Fellow the Monash Education Academy and a member of the Group of 8 Associate Deans Education network.
Julia's professional memberships are with:
FIEAust, Chartered Practicing Engineer (CPEng), IntProfEng, National Engineering Register (NER), APEC Engineer, EngExec.
Sustainable Engineering Society.
Australasian Association for Engineering Education.
International Waste Working Group.
Waste Management Association of Australia.
International Union for the Conservation of Nature (IUCN) Commission on Education and Communication.
Prizes:
Swinburne University's Vice Chancellor's Sustainability Award.
Swinburne University's Vice Chancellors Teaching Award.
Last modified: 04/12/2017