Professor Sankar Bhattacharya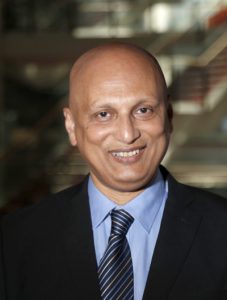 Professor Sankar Bhattacharya
Professor
Department of Chemical Engineering
Professor Bhattacharya came to academia in 2009 after having worked for twenty-one years in the industry – at the International Energy Agency in France, Anglo Coal Australia and CRC for Lignite in Australia, and Development Consultants in India. He commissioned the first CFBC in Australia, led the first Oxygen-blown HTW and Transport Reactor trials of Victorian brown coal, and worked on the commissioning of coal-fired plants in India. Since 2010, he has supervised six post-doctoral researchers and 27 students to Ph.D. completion. they are based in industry and academia in Australia, Bangladesh, China, Germany, India, Malaysia, Sweden, Thailand, UK, and the USA. He currently leads a group of 16 Ph.D. students and researchers working on gasification of solid fuels, processing of wastes, Chemical Looping for CO2 capture and chemicals, biofuels production, and platform chemicals from biomass.
Professor Bhattacharya believes in the near to intermediate-term application of engineering research. Most of his research projects are, therefore, affiliated with industries in Australia and overseas. Professor Bhattacharya has presented extensively at academic and industry conferences in Australia and overseas and advises research bodies and governments nationally and internationally.
Major Accomplishments
Leader – commissioning, operation and testing (Australia's first) of Victorian and South Australian lignites in first Circulating Fluidized bed Combustion (CFBC) pilot plant in Australia, 1998-2000
Leader – first oxygen-blown gasification of Victorian, South Australian and North Dakota lignites in pressurised High temperature Winkler (HTW) gasification pilot plant in Australia, 2002-2005
Joint Leader – first air and oxygen-blown gasification of Victorian and South Australian lignites in transport reactor gasification pilot plant in Grand Forks, USA, 2003
Develop IEA's policy recommendations for global coal-fired plant efficiency improvements for the G8 Heads of State delivered by the IEA in Hokkaido in 2008
Lead OECD-Heiligendamm Dialogue Unit's work on coal-fired power generation for G8+5 countries, leading to final reporting in Moscow in 2009
Present IEA's work in Cleaner Fossil Fuels in IEA member and non-member countries
Contribute to fossil fuel-fired power sections in IEA's publications including the World Energy Outlook, Energy Technology Perspectives, Carbon Capture and Storage, and IEA's country reviews – Indonesia, Netherlands, USA
Assist in developing technical criteria for World Bank's financing for modernization of older coal-fired plants, 2008
Professional Appointments
Interim Head, Department of Chemical Engineering, Monash University, 2017-Feb 2018
Professor and Deputy Head, Department of Chemical Engineering, Monash University, 2014-2016
Associate Professor, Department of Chemical Engineering, Monash University, 2009-2013
Leader-G8 Cleaner Fossil Fuels program, International Energy Agency (IEA), Paris, 2006-2009
Principal Process Engineer, Anglo Coal Australia, 2006
Principal Research Engineer and Key Researcher, CRC Clean Power from Lignite, Australia, 1995-2006
Research Associate, Energy Technology, Asian Institute of Technology, Bangkok, 1988-1990
Senior Design Engineer- Coal-fired power station design and commissioning services, Development Consultants, India, 1981-1987
Professional Affiliations
Fellow – Australian Institute of Energy
Member – Society of Petroleum Engineers
Qualifications
Graduate Certificate in Higher Education, Monash University, 2010
Diploma in Management, Melbourne Business School, 2002
PhD, University of Newcastle, Australia, 1995 – Chemical Engineering
M. Eng, Asian Institute of Technology, Bangkok, 1988 – Energy Technology
Expertise
Processing of wastes - plastics, tyres, paints, optical fibres, eWastes inclduing batteries,agro-residues

Chemicals and hydrogen from solid fuels including biomass
Consulting
Mitsubishi Heavy Industries, ANLEC R&D, CSIRO, Worley Parsons, JPower, JCoal
Community service/ Major Professional Involvement
Expert Reviewer – Intergovernmental Panel on Climate Change (IPCC), 2012
Reviewer – World Energy Outlook, International Energy Agency
Reviewer – Australian Research Council- Discovery, Linkage, Laureate and Future Fellowship schemes,
Assessor

Hong Kong Innovation and Technology Commission
National Research Foundation – South Africa
Ministério da Educação e Ciência, Portugal
Ministry of Business, Innovation & Employment, Government of New Zealand
Natural Sciences and Engineering Research Council of Canada (NSERC)
Research Council – King Fahd University, Saudi Arabia
National Research Council – Kazakhstan

Member – Clean Coal Technology ASEAN and East Asian region working Group, METI, Japan, 2010
Member – UN Economic Commission for Europe-Cleaner electricity production
Member – Advisory Committee, Clean Coal Victoria, 2011
Member – Science and Engineering Advisory Board, Government of Victoria
Member – Research and Investment Advisory Committee, Centre for Low Emissions Technology, Queensland; 2004-2006
Member – Management Committee, Australian Institute of Energy Victorian branch, 2005-2006; fronted Victorian Government's Senate Committee into their inquiry on Energy Services Industry
Advisory Committee member and/or invited Session Chair in national and international conferences – Freiberg Conference on IGCC and XTL- 2005 – 2017, Western Fuels Symposium-2004, USA, AIE Conference-2006, International Coal Science &Technology Conference-2009, International Low-rank Coal Symposium – 2010, 2012, Clearwater Conference 2012-2017
Presenter – Course on Lignite utilization and Advanced Power Generation Processes to industry employees and postgraduates, 2001, 2003, Melbourne.
Industry supervisor of PhD students in Australia, Japan and Thailand
Examiner of PhD theses and university academic promotion applications in Australia, India, China, Thailand
Guest editor – Fuel Processing Technology and Fuel special issues
Reviewers of international journals and book publishers – Fuel, Energy & Fuels, Industrial & Engineering Chemistry Research, Fuel Processing Technology, Int J of Hydrogen Energy, J Physical Chemistry Letters, Biomass and Bioenergy, Bioresource Technology, Zeitschrift fr Physikalische Chemie, Chemical Engineering Technology, Chemical Engineering Research and Design, Chemical Engineering Science, ASME journals, Renewable and Sustainable Energy Reviews, The Electrochemical Society Journals, ASTM International
Postgraduate supervision
PhD completed – 27; MS completed – 2
Current supervision – 16 students
Selected Recent Keynote and Invited Presentations
Invited – Coal/biomass gasification and Chemical Looping Combustion, Penn State University, the University of Washington at St Louis, University of Maryland, September 2016
Plenary Speaker – Chemical Looping Combustion, 7th International Symposium on Combustion, Tsinghua University, 2015
Panel member – technical discussion on Chemical Looping Combustion, Clearwater conference, Florida, 2015
Keynote speaker – Chemical Looping for power and chemicals, CHEMECA 2017
Keynote speaker – Coal gasification, CHEMECA 2014, CHEMECA 2010
Panel member, technical discussion on high-value products from low-rank coals, Clearwater conference, Florida, 2013
Keynote and course presenter on gasification – 3rd Annual Coal Upgrading and Conversion, Singapore, 2013
Keynote address, International Conference on Coal Science and Technology, 2011 and 2009
Invited presentation on gasification, ATSE/INAE/Energy Ministry Australia India Energy Efficiency Workshop, New Delhi, 2011
Course presenter, Asia-Pacific Partnership on Clean Climate Oxy-fuel combustion, 2011
Invited presentation, ASEAN Energy Conference, Kualalumpur, August 2010
Invited presentation, Low-rank coal in ASEAN and East Asian region, Jakarta, March 2010
Invited presentation, Victorian Energy and Power conference, March 2010
Keynote address, 3rd International Novel Carbon Resource Sciences Symposium, November 2009, Kyushu, Japan
Clean Coal Technology – Parliamentary briefing on behalf of the Australian Academy of Technological Sciences and Engineering at the Victorian Parliament house, July 2009 and 2012
Panel speaker, Power Industry's response to the challenge of climate change, Panelist, Powergen Europe, Milan June 4, 2008 ; other panelists included CEO- Siemens Energy Division, President-Alstom Power Systems
Speaker, Clean Coal Technology and Retrofitting opportunities in the ASEAN region, IEA-IAEA-Thai Energy Ministry Workshop, Bangkok, September 22-23, 2008
Speaker, Coal Gasification, International Seminar, Brazilian Coal Association, Brasilia, June 27, 2007
Panel Speaker, Realistic technology options for the power generation sector from now to 2030, Powering ASEAN: technology and Policy Options, Bangkok , 6-7 September 2007
Research Interests
Gasification and pyrolysis – coal, biomass and wastes for fuel and chemicals
production; Advanced combustion for easier CO 2 capture – Chemical looping, Oxy-pf and Oxy-CFB combustion; Biofuels from biomass and algae; Coal and biomass drying; Life Cycle Analysis; Platform chemicals from biomass
Recent Research Projects
Gasification of brown coal and biomass – catalytic and mineral matter effects, and assessment of slagging, slag rheology
Pyrolysis and gasification and pyrolysis of wastes for fuels and energy production
Catalytic conversion of liquids from waste plastics, MSW, and Tyres to chemicals and fuels
DME and DMC production from lignites and biomass
Fine chemicals from biomass and algae through catalytic conversion
Catalytic conversion of algae for chemicals and fuels production
Oxyfuel combustion of Victorian Brown coal and overseas lignites, and mineral matter effects
Economics of Oxyfuel retrofitting of lignite
Chemical looping combustion and gasification of lignites and biomass, catalytic and mineral matter effects
Biomass and lignite application in Direct carbon fuel cell
Use of lignitic ash for building products and CO2 storage
Steam and flue gas drying of coal and related drying kinetics
LCA study mineral processing – Copper and Nickel minerals
Energy Economics
Patent, Book Chapters and Presentations
 Patent
Advanced power generation process for use with high moisture lignites, with Malcolm McIntosh, – Australian patent no 740099 (86175/98), US patent no. 6148599 (09/114432)
Levoglucosenone production (patent application: AU2018900474) and
Power from waste biomass production Provisional patents 2018904255 and PCT/AU2019/051238
Book Chapters
Three chapters: Carbonization of Sawdust Briquettes, Batch Carbonization of Selected Agro-forestry Residues, Characterization of Selected Agro-forestry Residues, in BioCoal : Technology and Economics, S. C. Bhattacharya and R. M. Shrestha (eds.), Regional Energy Resources Information Centre, Asian Institute of Technology, Bangkok, Thailand, 1990. ISBN 974-8201-414
An Overview of Advanced Power Generation Technologies Using Brown Coal, in Advances in the Science of Victorian Brown Coal (edited by C Z Li), Elsevier, October 2004, ISBN 0-08-044269-2
Fermentable Sugars from Ligno-cellulosic Biomass: Technical Challenges, in (Biofuel Technologies – Recent Technologies (edited Vijay Gupta and Maria Tuohy), Springer, February 2013, ISBN 978-3-642-34518-0
Chapter 10: DICE, Direct Carbon Fuel Cells, and other advanced methods for power and chemicals production from low rank coals, in Low-rank coals for power generation and fuel production, to be published by Elsevier
Books Edited and authored
Fossil Fuel Fired Power Generation – Case Studies of Recently Constructed Plants, International Energy Agency, ISBN 978-9264-03908-7, 2008
Power Generation from Coal: Ongoing Developments and Outlook, International Energy Agency, 2011
Drying of Biomass, Biosolids and Coal, CRC Press, 2019
Journal Publications
See Sankar Bhattacharya's Journal contributions through published book chapters, articles, journal papers and in the media.
Research Reports
Project Sponsors and Partners
Mitsubishi Heavy Industries, JPower, Australian Research Council, State Government of Victoria, Department of Resource, Energy and Tourism-Canberra, AusAID, Loy Yang Power, International Power, Energy Australia, Ozmotech Pty Ltd, CSIRO, HRL Ltd, Kyushu Electric, ANLEC R&D, Brown Coal Innovation Australia, Australia China Strategic Research Fund, Go8-DAAD, CSIRO, ATSE, Alstom. Korea Institute of Energy Research.
Teaching Commitments
CHE3164 - Reaction Engineering
CHE4170 - Design Project
CHE4180 - Chemical Engineering Project
ENE3048 - Energy and the environment
CHE5299 - Biorefinery Processes – MS level
CHE5881 and CHE6881 - Advanced Reaction Engineering – MS level
Last modified: 10/06/2021